'Little Evil' Trailer: Adam Scott And Evangeline Lilly Raise The Antichrist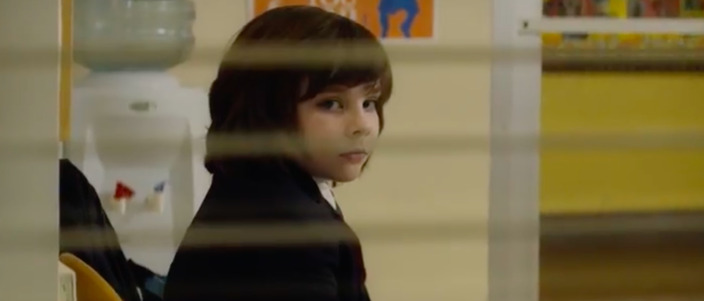 Tucker & Dale vs. Evil is a fantastic horror comedy. Eli Craig's directorial debut is a sweet, bloody as hell and consistently funny film with two standout performances. Craig has reunited with the star of his first movie, Tyler Labine, for his second feature, Little Evil. The Netflix comedy stars Adam Scott (Parks and Recreation) and Evangeline Lilly (Ant-Man) as a newly wed couple. They're happily married, but there's one problem: the child (Owen Atlas) they're raising is the antichrist.
Below, watch the Little Evil trailer.
Little Evil looks as funny as it sounds. There's a lot of great lines and gags in the trailer, including a bit with a burnt clown and a reference to a Kevin Costner classic. Bridget Everett (Patti Cake$), in particular, looks like she could steal the movie. In addition to Scott and Lilly, Craig's new movie co-stars Donald Faison (Scrubs), comedian Chris D'Elia (Undateable), and Clancy Brown (Carnival). It's definitely a group of people who I want to see wrangle or encourage the little antichrist.
Scott quickly backing away from the child and his goat puppet? Lilly's heartfelt delivery of "so creative"?  There's a lot to enjoy in this trailer. The straight-faced, reactionary role can sometimes be dull in comedies, but it's something Scott does well with. Not everyone can star in a comedy surrounded by big, comedic personalities and be just as funny as they are. It takes skill, which Scott and the rest of this cast have plenty of to make Little Evil a fun time. After watching the trailer, I have high hopes for this one.
It's been too long since Craig's last film, which came out in 2010 and quickly found an appreciative fanbase. Since then, Craig has directed an episode of Brothers and Sisters and Amazon's Zombieland pilot. However, Amazon decided against ordering more of that series, which was based on the hit zombie comedy.
Craig has been working on Little Evil for a few years now. In 2013, Universal bought the project for seven figures. Four years later, the movie is finally coming out and will be available to stream very soon:
Meet Gary. He just married Samantha, the woman of his dreams. There's one problem, his stepson is the antichrist. Adam Scott and Evangeline Lilly star in the Netflix horror comedy from the director of Tucker and Dale vs. Evil. Coming to Netflix September 1.
Little Evil will be available to stream November 1, 2017.