Michael K. Williams' Role Cut From 'Han Solo' Movie During Reshoots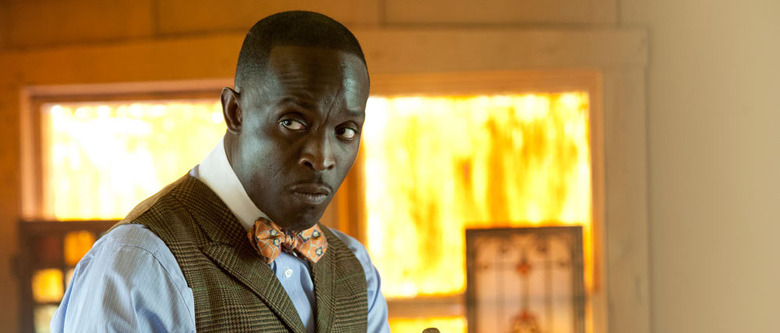 Michael K. Williams has been cut from the Han Solo movie amid reshoots with new director Ron Howard. The Emmy nominee for The Night Of and The Wire alum was a last-minute addition to the Star Wars standalone movie, with his casting announcement only being revealed in March of this year.
However, Williams could not accommodate the reshoots schedule currently being overseen by Howard, who stepped in after original directors Phil Lord and Christopher Miller left the project. This resulted in his character being cut altogether.
Deadline reports that Williams' schedule for the spy drama The Red Sea Diving Resort, his movie shooting in South Africa with Ben Kingsley, conflicted with the reshoots for Han Solo that are currently underway. Williams told Deadline:
"When Ron Howard got hired to finish out the film, there were some reshoot issues that needed to be done in regards to my character, in order for it to match the new direction which the producers wanted Ron to carry the film in. And that would have required me on a plane a month ago to London, to Pinewood, to do reshoots. But I'm here, on location in Africa. It's scheduling. I'm not going to be back on the market until the end of November after [his SundanceTV series] Hap and Leonard, and for them to wait that long for me, that would have pushed back the release date, which I believe is in May 2018. They wanted me now; I couldn't go. So they had to clip-clip-clip."
There's not much information about what character Williams was playing, or how much he would factor into the film. Williams did say he was playing a half-human, half-animal character — presumably an alien — who was "a kick-ass character, in my opinion. I'm proud of it."
Considering the last-minute casting of Williams when Lord and Miller were still helming the film and that fact that he's been cut rather than recast, this sounds like it was a very minor character — perhaps one of a more comic nature considering the reasons that Lord and Miller were fired in June this year (*cough* Ace Ventura Han *cough*). Or it may be similar to the case of Forest Whitaker's character in Rogue One, who the filmmakers built up to be someone of import, only for him to be sidelined early on in the movie.
Still, Williams was a prestigious piece of casting for the Star Wars prequel, which features the lesser-known actor Alden Ehrenreich in the lead — though it does boast recognizable actors like Emilia Clarke, Donald Glover, and Oscar nominee Woody Harrelson in key roles.
Williams did seem a bit sore that he would no longer be in the Han Solo movie, though he didn't rule out returning to the Star Wars universe at some point:
"I left with a very good taste in my mouth about the whole family, and I hope that I left a good taste in their mouth. They're a great group of people, the Lucas family."
Interestingly, Williams seemed to hold onto a loyalty to the directors who hired him, Lord and Miller, saying quite cryptically about his character being cut, "I felt great about what I created with the directors that I worked with. It is what it is."
The untitled Han Solo movie is still scheduled to arrive on May 25, 2018.