The 10 Best Movies From Bleecker Street, The Exciting Indie Distributor That Should Have Your Attention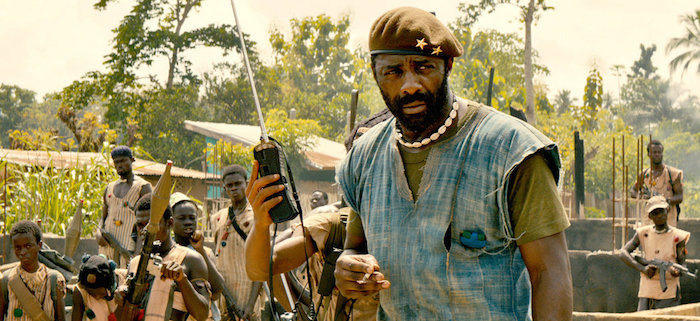 The dirty secret of culture writers on movie websites is that most of us don't write lists to irritate people itching for the comments section. We do it to celebrate a big batch of films. I swear. We want to grab our pom poms for these things, especially the underrated work, and "The Underseen Gem" might as well be Bleecker Street's motto.
Cheerleading is exactly what this list is meant to do. Maybe it's in the right qualitative order. Who knows. I simply want to draw attention to a quality distributor that nonetheless doesn't get the same religiously whispered street cred as A24 or Annapurna. Led by former Focus Features exec Andrew Karpen, Bleecker Street isn't as experimental as those outfits, but it still releases compelling, rich features for adult audiences. Whenever someone complains that the mid-budget movie is dead, that the '90s-style era of solid drama is over, I always want to write "Bleecker Street" on a napkin and slap it on their forehead.
So, no clever introduction (most would skip over it to get to the numbers anyway) hyping their dense output in only 3 years. No hiding my purpose here. Everyone reads lists, so maybe this one will get more people watching their movies.
10. The Lost City of Z
To get a sense of the quality we're talking about here, this, the lowest movie on the list, holds an 87% Rotten Tomatoes score. Not that that's the end all, but you get my drift.
This dramatic trek through the jungle is Charlie Hunnam's most (only?) intriguing performance. He plays real-life explorer Percy Fawcett, who slashed his way through the Amazon in the early 1900s, attempting to make contact with an undiscovered, advanced civilization. The saga moves through the early success which prompts a lifetime of failures, complete with disruptive family drama and a stint in the trenches of the Somme.
Written and directed by James Gray, it's unsurprisingly lush and sweeping, regaling us with a life of potentially foolhardy commitment.
9. I'll See You in My Dreams
The Hero writer/director Brett Haley popped up in 2010 with The New Year, which earned him an opportunity to work with the legendary likes of Blythe Danner and Sam Elliot on a life-affirming postcard from the retirement community. Danner absorbs attention as the 20-years-widowed singer whose only family, her daughter, lives in another state. When her older dog dies, she's left lonely, but a friendship with her pool boy Lloyd (Martin Starr) and a budding romance with the gravel-and-honey-voiced Bill (Elliot, of course) help draw her back into the social sphere. They also open her up to the possibility of new wounds. That's the bargain, right?
The film is touching without being maudlin, a tone that is quickly becoming a Haley signature. Aging and loss are treated with respectability and universality that is uncommon in cinema that more typically values invincibility and youth.
8. Trumbo
It's more than likely that the Hollywood Blacklist and the HUAC era are overused in an industry in love with itself and its struggles. It's also more than likely that people expected more from this tangled web, but I'm not sure how you dismiss Bryan Cranston's embodiment of politically isolated screenwriter Dalton Trumbo, or his toe-to-toe fight with Helen Mirren's rag journalist Hedda Hopper.
Jay Roach – who has hopscotched between broad comedy and political drama – crafted a sturdy, intimate look at the desert days of one of the best writers of all time. It stands as an exploration of how even the most egregious socio-political attitudes, too, shall pass. Cranston was exactly the right fit for the roughshod figure who is forced to do some of his best work without the adulation and closure of public credit.
7. Anthropoid
Yes, Bleecker deals heavily in biographies, including this stark, explosive look at the conspiracy to assassinate Holocaust architect Reinhard Heydrich as he visited Prague in 1942. Would I have expected this from the filmmaker behind Cashback? Nope. But he pulls off the wartime intensity and thrills of a conspiracy you hope/know will succeed with deft candor. Cillian Murphy and Jamie Dornan hold down the fort as the main conspirators attempting to pull off the impossible with almost no resources and no firm intelligence. The moral implications are severe, with each would-be assassin and abettor understanding that retribution will be thorough and monstrous, but that the end of Heydrich could change the face of the war by showing the Nazi's weakness.
It's a deeply magnetic movie, and a much-needed modern update to the 1943 Hangmen Also Die!, and if it piques your curiosity, you should check out Laurent Binet's novel "HHhH" for a clever exploration of the event.
6. Captain Fantastic
A year after securing an Oscar nomination for Cranston, Bleecker scored another as Viggo Mortensen earned a spot on the shortlist for his portrayal of the wilderness-dwelling patriarch of a family who must reintegrate with society after teaching the children self-reliance and celebrating Noam Chomsky Day instead of Christmas. Take that, capitalism. Mortensen's Ben Cash is, like most radical figures in film, setting his offspring up for rebellion and disillusionment as soon as they get a good look at the world he's shielded them from and stolen from them.
The story comes from the imagination and real life experiences of Matt Ross, most recognize as Hooli founder Gavin Belson on Silicon Valley. His work here is confident and thoughtful, finding empathy on all sides of the dinner table as he contemplates (with humor and pathos) the old chestnut about loving something and setting it free. Plus, he finds a ceremonial use for an airplane toilet, which may be the perfect symbol of the movie's complex tone.
5. Danny Collins
This is the one that started it all. The directorial debut of comedian Dan Fogelman was the first film distributed by Bleecker Street way back in 2015. It's (surprise) based on a true story, starring Al Pacino as the rough and tumble rocker in aging decline who changes his life after reading a lost letter to him from John Lennon. It turns out the people in your life should take precedence over a lifestyle.
It's a bit standard, and it has some of the scars of first-time feature filmmaking, but Pacino anchors it deep into the ground. Plus, it boasts a seasoned cast of performers like Annette Bening, Bobby Cannavale, Christopher Plummer, Nick Offerman and more. In a sense, its heart set a tone for the distribution company, which seems to gravitate toward stories of flawed men trying to make amends to family and friends and themselves.
4. Logan Lucky
The deep fried heist movie from Steven Soderbergh you've heard so much about, but not enough people have gone to see yet, features Magic Mike and Han Solo's son trying to knock over a NASCAR speedway with help from James Bond. Maybe that should have been on the poster.
The headline is Soderbergh's return to feature filmmaking after a retirement that turned into a hiatus, and he clearly hasn't lost a step (considering that he kept busy between front porch rocking chair sessions with The Knick and about 17 other projects). It's hard to get rusty when you're constantly in motion.
As Karen Han said in her 9/10 review, "Logan Lucky is like its characters; it's high octane and larger than life in the immediate moment, but its staying power is in the quieter moments that are scattered throughout the film. The characters and plot devices may not be entirely new, but Soderbergh derives enough pleasure from setting up the dominoes and then letting them fall that it doesn't really matter. His energy is infectious, as is the goodwill of the characters we're watching, even if they are breaking the law."
3. Denial
Unfortunately topical, this story of a British Holocaust denier's libel lawsuit against an American academic gave Rachel Weisz a platform for a searing performance of personal and professional and historical frustration. When a troll pops up into public discourse, spouting harmful garbage, do you ignore it or let sunlight be the best disinfectant?
The drama explores that question through Weisz's character, Holocaust expert Deborah Lipstadt (who wrote the autobiographical book the film is based on), as well as her legal counsel headed by Tom Wilkinson and Andrew Scott, and members of the British Jewish community. Timothy Spall is maddeningly smug as David Irving, the denier/agitant who traffics in quippy sound bites and rhetorical traps to pretend that the wholesale slaughter of millions never took place.
Like arguing the world is round (sorry, gullible flat earthers), Denial captures the depressingly aggravating need to bring a certain percentage of the population in line with an obvious truth.
2. Paterson
Poetic and low-key, Jim Jarmusch's Cannes competitor features two everyday people with dreams of more. Adam Driver plays a hobbyist poet named Paterson who drives a bus and is reluctant to try to get his work published (or even photocopied from his personal notebook). His wife Laura (played soulfully by Golshifteh Farahani) wants to be a professional singer and encourages Paterson to put his writing work out there for the public to enjoy.
The film shows off Jarmusch's peerless gift for dialogue as it elevates the lost art of human contact. It's the perfect film to enjoy when your ears start ringing from all the explosions and snapping spandex at the multiplex.
1. Beasts of No Nation
Powerful, evocative, vital. Idris Elba's performance as a brutal militia leader and child rapist grabs you by the ears until you change religions, and Abraham Attah's portrayal of the child soldier Agu is (and should be) a career-launching spectacle of emotion. This kind of intense, delicate subject matter is easy to get wrong, to water down, or to flatten. The responsibility of treating it with open-hearted honesty and the ramifications of diminishing a genuine struggle are massive, and writer/director Cary Joji Fukunaga handles it all with expertise beyond his professional age. He proved that Sin Nombre was no fluke.
With those two films, careful consideration of real-life hardship have become a hallmark of the filmmaker's art. Beasts of No Nation – as an adaptation of Uzodinma Iweala's novel – is a towering achievement that breeds rage and sorrow in equal measure, with a dash of optimism thrown in to make us want to bear the weight of its story.
Bleecker Street has its high mark to try to clear with future films. It's exciting to see what they'll do next.