'Stranger Things' Season 3 Confirmed, Will Likely End After Four Seasons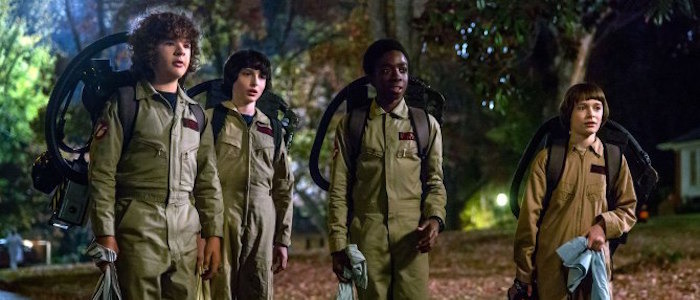 How much stranger can one small Indiana town get? At least four seasons worth, according to the creators and showrunners of the hit Netflix show Stranger Things.
Matt and Ross Duffer said they don't plan on keeping Stranger Things running past four seasons, keeping the story as tight and well-plotted as they possibly can. Oh, and to make sure those adorable kids aren't suddenly pushing 30 at the end of the series.
The second season of Stranger Things has yet to hit our screens, but the Duffer brothers are already looking two years ahead. The brothers confirmed that the hit '80s-set sci-fi horror series is set for Season 3, with a goal of wrapping up the series after its fourth season.
"We're thinking it will be a four-season thing and then out, Ross Duffer told Vulture.
Matt Duffer added: "We just have to keep adjusting the story. Though I don't know if we can justify something bad happening to them once a year."
A fourth season would probably air in 2019, when the child actors on the show, Millie Bobby Brown, Finn Wolfhard, Gaten Matarazzo, Caleb McLaughlin, and Noah Schnapp, would be between 15 and 17 years old. In the show itself, they would all be about 16 years old.
Puberty has always wreaked havoc on shows that feature child actors — remember how Lost got rid of Walt after two seasons because he was aging too quickly and they completely dropped his storyline — though Stranger Things does have the fallback of being a coming-of-age story wrapped up in a horror series, like so many of the '80s horror movies from which it draws influence.
But other than the rapid aging of their child stars, Ross Duffer pointed out there's only so much supernatural phenomena that one town can take. Last year had Hawkins, Indiana, dealing with the Demagorgon, and this year they're getting a creepy something from the Upside Down that's even bigger and badder.
"They're going to have to get the fuck out of this town!" says Ross. "It's ridiculous!"
That's one of the drawbacks of doing a serialized story rather than an anthology series like I — and many others — initially thought the Duffer brothers would continue Stranger Things as after it became Netflix's sleeper hit last year. It was a format recently popularized by prestige shows like Fargo, and less prestigious but high-concept series like American Horror Story. And Stranger Things seemed to have lent itself to that format: the retro homages, the small-town setting, the neatly wrapped up sci-fi horror storyline. But the characters were just too charming and precious to abandon, and I completely understand why the Duffer brothers wouldn't want to lose a talent like Brown. That said, I'm glad they're keeping it short and simple with a possible four-season order.
Stranger Things season 2 premieres on Netflix on October 27, 2017.