J.J. Abrams And B-Movie Legend Larry Cohen Are Making An Anthology Series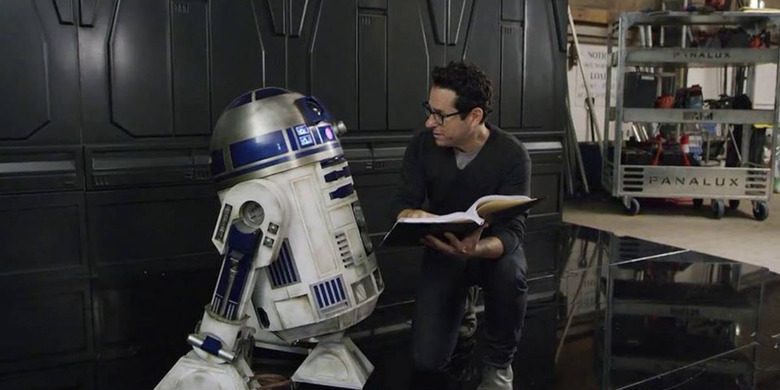 J.J. Abrams doesn't waste his clout. The Star Wars: The Force Awakens director backs some talented filmmakers and even once oversaw a 4K restoration of the cult horror classic Phantasm. Abrams and Bad Robot did the restoration out of love for director Don Conscarelli's work. Now, Abrams is collaborating with another filmmaker he admires, B-movie icon Larry Cohen, who directed It's Alive and The Stuff. The two of them are developing an anthology series at the moment.
Below, learn more about the J.J. Abrams anthology series in the works.
Cohen has written and directed a ton of cult movies throughout his career. He wrote Maniac Cop, Return of the Magnificent Seven, and dozens of other movies over the years. His more recent credits include titles such as Phone Booth, Cellular, and Captivity. However, it's Cohen's bizarre and unique horror B-movies that have the most passionate followers, including Abrams. He even talks about Cohen's movies in an upcoming documentary, King Cohen: The Wild World of Filmmaker Larry Cohen, which also features Martin Scorsese, Joe Dante, Rick Baker, John Landis, and Tara Reid.
After spending time praising Cohen's career, Abrams is going to help him add another project to his large body of work. During an interview with BrokeHorrorFan, Cohen revealed he's written a cable series for Abrams and Bad Robot:
We're working on a series now for cable with J.J. Abrams, who is a big fan of mine, and his company, Bad Robot. Each season would be 10 original one-hour Larry Cohen thrillers. We've got about two seasons already written, ready to be shot. If that happens, it'll be a whole new renaissance, and there will be a lot of my material out in the world, and I'll direct some of them.
Cohen wants to have a host to introduce each episode as well:
That's what it's going to be, a thriller anthology. I'm hoping to get somebody like Christopher Walken to be the host and introduce them in a comedic way.
They're currently trying to sell the series to cable. Cohen, who tends to write fast, turned out the 10 episodes rather quickly. He plans on directing a couple of the episodes, too. Cohen thinks the show would make for a wonderful tribute to his work. He'd like there to be 10 more Larry Cohen films, which the show would make possible. He feels confident if anyone can make the series happen, it's Bad Robot and Abrams.
It's always great seeing Abrams using his sway for good. By helping to kickstart more Larry Cohen stories and by overseeing the remaster or Phantasm, he seems to be living a fan's dream by helping to make the kind of movies and shows he wants to see and showing his heroes some love.