'American Horror Story: Cult' Opening Credits Sequence Features Trump And Clinton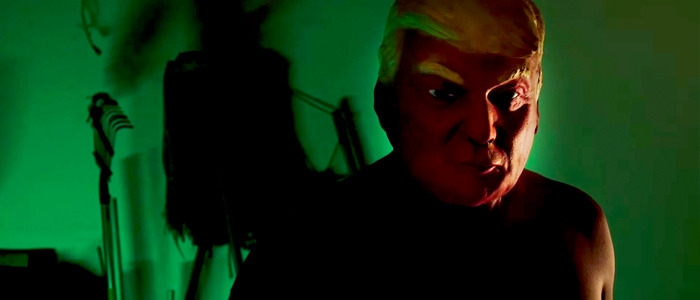 Producer Ryan Murphy has never been one to shy away from controversial topics in the television shows and films he's worked on, whether in Nip/Tuck, Glee, Feud, or American Crime Story. And that streak continues with American Horror Story: Cult, the newest season of his long-running anthology series, which dropped its opening credits sequence online earlier today.
As promised, 2016 United States presidential candidates Hillary Clinton and Donald Trump both factor in to the creepy footage. Find out how they're involved by watching the credits below.
Last Friday, Murphy promised fans that the show's highly-anticipated credits would be available online today...
...and he delivered.
American Horror Story Cult opening credits
Speaking of controversial: is...is the first thing we see in that sequence an angel statue doing a jerk-off motion? Moving on...
It's also worth noting that some fans are riled up about these titles only featuring five names of actors involved (Sarah Paulson, Evan Peters, Cheyenne Jackson, Billie Lourd, and Alison Pill), because we already know that a lot more people are involved with the upcoming season. But the show's wiki page lists those five actors as this season's main characters, so maybe supporting characters like those to be played by Billy Eichner, Emma Roberts, Lena Dunham, Colton Haynes, and Chaz Bono could be worked into the opening titles of episodes in which they appear and given the appropriate "with/and" credits. And don't forget that Twisty the Clown is supposed to be coming back, too – which makes sense considering how many clowns appear in this opening.
We knew that the 2016 presidential election would factor in to this iteration of the show, so it's not a big surprise that masks of Trump and Clinton would appear in the credits sequence. The election reportedly won't be a prominent component of the entire season, but the show will be kicking off with it in a pretty significant way: the season premiere is officially titled "Election Night."
Murphy previously explained that Clinton and Trump themselves wouldn't appear as characters on the show (hence the masks), and he elaborated about his hopes for this season:
What I'm interested in doing is not just the obvious, single-minded point of view but rather express all sides of that equation. What needs to happen in our country now is for people to listen to each other – we may not always agree with each other and we may be horrified by what the other side is doing but we have to move toward understanding.
American Horror Story: Cult debuts on Tuesday, September 5, 2017 on FX.