'Suburbicon' Trailer: Matt Damon And Julianne Moore Get Their Hands Dirty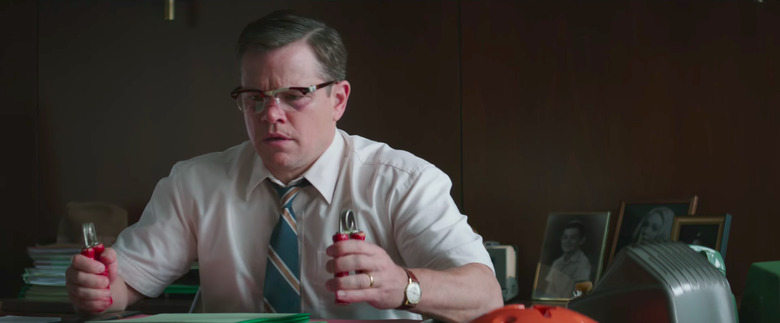 No one does black comedy better than the Coen brothers, and with their frequent leading man George Clooney behind the camera, it seems like Suburbicon will bring a whole new twist onto a classic Coen tale.
A new international trailer for the Coen brothers-penned, Clooney-directed film about Suburbia Gone Wrong has arrived and it features star Matt Damon getting his hands — and face — bloodier than ever.
The trailer opens on Matt Damon's Gardner Lodge being somberly greeted with condolences about "his loss" as he walks into work. After the death of his wife, Gardner's sister Margaret (Julianne Moore) moves in to bring a "feminine touch" to his house and help raise his young son. Things go from bad to bloody from there, as police investigating the home invasion that killed his wife question Gardner, and a sleazy insurance claims investigator (Oscar Isaac) grills Margaret.
"Welcome to Suburbicon," a breezy announcer narrates over the trailer as the appearance of a new black family in town disturbs the neighbors, and Gardner gets punched in the face. "A town of wonder and excitement, with the promise of prosperity for all. Isn't it time for your new start?"
Cut to scenes of rioting, fire, and murder, and a brief clip of Gardner beating a man before returning home with a bloodied shirt. "It's all falling apart, Maggie," he says to a distressed Margaret.
The trailer plays up the suburban paranoia more than the first trailer, which centered around the Coen Brothers' violent brand of screwball comedy. Rather than just focusing on Damon's hapless leading man (which I'm glad to see Damon return to after his inspired turn in The Informant!), we get a glimpse at the neighborhood's violent dissent to the black family moving into town, as well as the unraveling of the sunny, pill-crushing Margaret. And I'll always welcome more scenes of Oscar Isaac as a mustachio'd insurance claims investigator closing in on Gardner and Margaret.
Here's the synopsis below:
'Suburbicon' is a peaceful, idyllic suburban community with affordable homes and manicured lawns... the perfect place to raise a family, and in the summer of 1959, the Lodge family is doing just that. But the tranquil surface masks a disturbing reality, as husband and father Gardner Lodge (Matt Damon) must navigate the town's dark underbelly of betrayal, deceit, and violence. Directed by George Clooney, and written by George Clooney, Grant Heslov and the Coen Brothers, Suburbicon is this Autumn's much-anticipated dark comedy, with a fantastic cast also including Julianne Moore, Oscar Isaac and newcomer Noah Jupe.
Suburbicon hits theaters October 27, 2017.