'How To Talk To Girls At Parties' Trailer: Elle Fanning's Alien Wants To Learn About Punk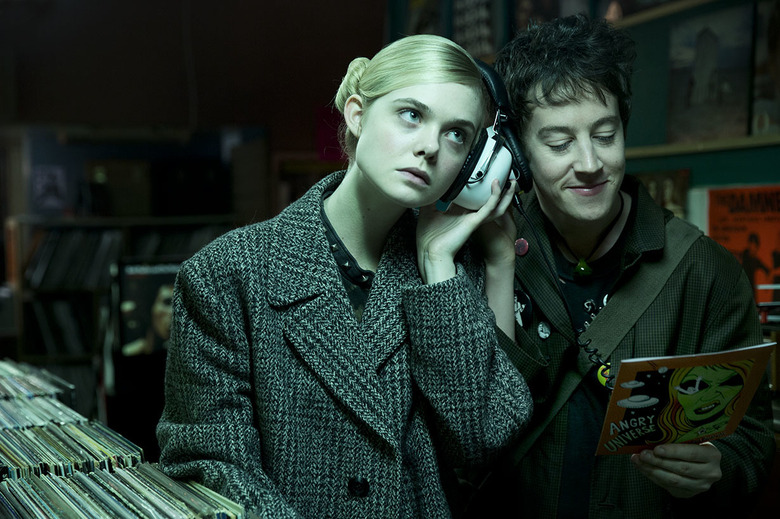 Elle Fanning continues her electric career playing precocious teens on the cusp of sexual awakening with her role as the eccentric love interest in How to Talk to Girls at Parties — but with a twist. This time, Fanning is an alien newly indoctrinated into 1970s' London's punk rock scene.
Based off of Neil Gaiman's short story of the same name, How to Talk to Girls at Parties marks director John Cameron Mitchell's return to feature films after a seven-year hiatus. Now it seems like Mitchell will be swiveling from the morose tone of his last film Rabbit Hole, and recapturing the oddball effervescence of his earlier film, Hedwig and the Angry Inch.
The international trailer for How to Talk to Girls at Parties was released first in Japan — so don't get confused by the brief Japanese narration that kicks off the teaser.
The trailer follows Fanning's costar and the human protagonist, Enn (Alex Sharpe) who stumbles on a punk party that he soon discovers to be populated by aliens undergoing a rite of passage. He immediately falls in love with Fanning's Zan, who is intrigued by Enn's descriptions of life on Earth and of the punk scene. "Teach more more about punk," she says, wide-eyed, to Enn's joy.
They frolic throughout London listening to records, licking each other's faces (at least on Zan's part), and generally having a jolly, coming-of-age time. Fanning seems to be enjoying her role as the precocious alien, while her Beguiled costar Nicole Kidman gives an unleashed performance as the wild-haired Queen Boadicea.
While I'm a fan of Gaiman's magical, off-the-beaten-track stories, How to Talk to Girls at Parties is dangerously close to perpetuating the "Born Sexy Yesterday" trope, in which a nubile young woman is enamored with a perfectly mediocre man because she lacks any real-world experience. But Gaiman has a fairly good track record with female characters — and Fanning is a reliable star in the portrayal of burgeoning teen sexuality — so How to Talk to Girls at Parties could act as a surprising subversion of this trope.
Here's the synopsis to How to Talk to Girls at Parties below:
John Cameron Mitchell, director of the acclaimed films Hedwig and the Angry Inch and Shortbus takes us to an exotic and unusual world: suburban London in the late 70s. Under the spell of the Sex Pistols, every teenager in the country wants to be a punk, including our hopeless hero Enn (Alex Sharp). Crashing local punk queen Boadicea's party, Enn discovers every boy's dream – gorgeous foreign exchange students. When he meets the enigmatic Zan (Elle Fanning), it's love at first sight.
But these teens are, in fact, aliens from outer space, sent to Earth to prepare for a mysterious rite of passage. When their dark secret is revealed, the love-struck Enn must turn to Boadicea (Nicole Kidman) and her followers for help in order to save the girl he loves from certain death. When the punks take on the aliens, neither Enn's nor Zan's universe will ever be the same again.
How to Talk to Girls at Parties will be released in theaters by A24 later this year. The film made its world debut to mixed reviews at the Cannes Film festival in May this year.