'Mr. Robot' Season 3 Clip: Elliot's Hack Gets Interrupted By The Dark Army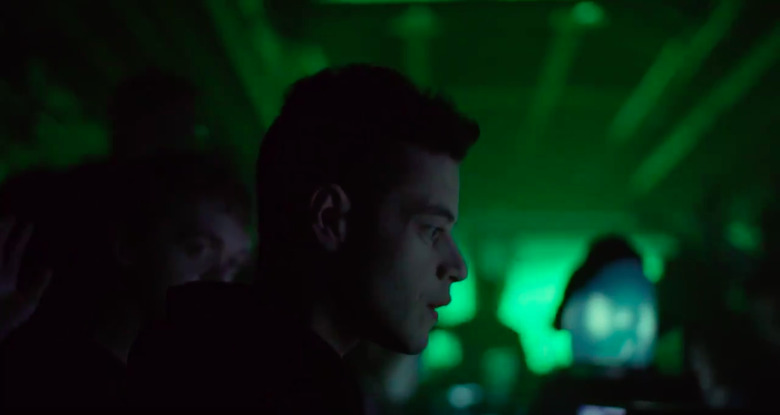 Elliot looks like he's back to his moody, agitated self in the newest clip from Mr. Robot season 3, recovered from the dire events of the season 2 finale and back in the hacking world.
And this is "just the beginning," the caption for the clip teases.
Prepare yourself, friend. This clip is just the beginning.

season_3.0. #MrRobot. 10.11. @USA_Network. pic.twitter.com/lcspXaktC7

— Mr. Robot (@whoismrrobot) August 18, 2017
Mr. Robot season 3 picks up after Mr. Robot, fsociety, and the Dark Army are about to move on to Stage 2 in bringing down E Corps, at the cost of hundreds of lives. Having discovered his unwitting participation in bringing this plan to life, Elliot had attempted to stop the mission, only to be shot in the back by Tyrell Wellick (Martin Wallstrom).
The one-minute clip from the third season of the USA Network hacking drama shows Elliot (Rami Malek) recovered from his injury and at the Def Con CTF Quals, a real-world hacking tournament. Genius that he is, he beats the competition in two minutes and uses his spare time to attempt to sabotage the Dark Army, the malevolent hacking collective that commandeered Elliot's fsociety attack on E Corp.
"I can shut down their access before the Dark Army notices," Elliot narrates in his trademark monotone, referring to the computer of his uneasy ally Tyrell Wellick.
However Elliot is soon interrupted by the arrival of a somber Darlene (Carly Chaikin) and a few curt individuals — likely Dark Army hackers — who order Elliot to "Stand up, and walk with us." But is Darlene truly with the Dark Army or has she flipped and become an informant for the FBI after we saw her getting grilled at the end of the second season?
With New York City on military lockdown and Elliot out of commission after his gunshot wound, it seems like Angela will be taking on the role of fsociety ringleader, donning the Mr. Robot mask in the Season 3 trailer for Mr. Robot. The rest of the city has turned to chaos it seems, with copycats using the mask to terrorize civilians, and the Dark Army still waging an invisible war behind the scenes.
With a promise for more real-world implications, it seems like season 3 will move on from the trippy headspace of Elliot's paranoia. Showrunner Sam Esmail has already promised this season will be a brutal takedown of America in response to the inauguration of Donald Trump, so look forward to even more depictions of sadistic anarchy this time around.
Mr. Robot Season 3 premieres October 11 at 10 PM/9 PM Central on USA Networks.