M. Night Shyamalan's 'Glass' Synopsis Reveals Elijah Price Holds The Secrets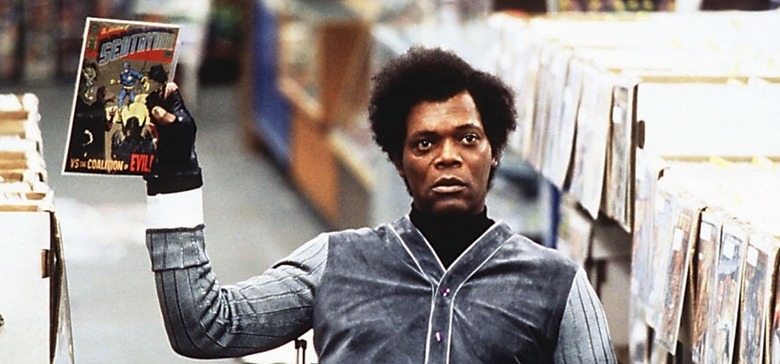 In a month's time, M. Night Shyamalan will begin shooting a sequel we've been wanted for years. Shyamalan will complete a trilogy that started with Unbreakable and continued with Split. The final chapter, Glass, brings the heroic David Dunn (Bruce Willis), the villainous Elijah Price (Samuel L. Jackson), and Kevin Wendell Crumb (James McAvoy) and his multiple personalities together for what Shyamalan calls a "crazy comic book thriller." The director has revealed few details about the sequel, but a new plot synopsis shines some more light on what to expect from Glass.
Below, check out the Glass synopsis.
While Split was a contained thriller, Shyamalan is going for a larger scope with Glass. Unlike his last Blumhouse production, it's going to cost more than a few million dollars to produce. "The budget is more traditional, still by Hollywood standards a meager budget, but it is not $5 million," Shyamalan has said. Rehearsals for the project begin September 18, which is exactly one week before shooting starts.
According to the first official plot synopsis for the film, Dunn and Kevin will battle in "a series of escalating encounters":
From Unbreakable, Bruce Willis returns as David Dunn as does Samuel L. Jackson as Elijah Price, known also by his pseudonym Mr. Glass. Joining from Split are James McAvoy, reprising his role as Kevin Wendell Crumb and the multiple identities who reside within, and Anya Taylor-Joy as Casey Cooke, the only captive to survive an encounter with The Beast.
Following the conclusion of Split, Glass finds Dunn pursuing Crumb's superhuman figure of The Beast in a series of escalating encounters, while the shadowy presence of Price emerges as an orchestrator who holds secrets critical to both men.
This riveting culmination of his worldwide blockbusters will be produced by Shyamalan and Jason Blum, who also produced the writer/director's previous two films for Universal. They produce again with Ashwin Rajan and Marc Bienstock, and Steven Schneider, who will executive produce.
It almost sounds like comic book fan Elijah Price wants to see a superhero and super villain duke it out, as he's referred to as an orchestrator. Not mentioned in the plot synopsis is the great Sarah Paulson (Carol), who joined the project in July. At the time of her casting, nothing was said of the character she's playing, but her presence in the cast is exciting nonetheless. Another actress unmentioned in the synopsis is Robin Wright. David Dunn's family was an integral part of Unbreakable, but whether Audrey Dunn (Wright) is returning for Glass is unknown at the moment.
Shyamalan has called the story "intricate" and "kind of epic." He writes very in-depth outlines, and he said the one for Glass was very long. The scope of the story sounds like a bit of a departure from Unbreakable and Split, which had a refreshing simplicity to them. They were more driven by character and mood than plot. Both movies feature some of Shyamalan's most fascinating characters, too, so hopefully they're still front and center of this "kind of epic" comic book thriller, which can't arrive soon enough.
Glass opens in theaters January 18, 2019.