'Kingsman: The Golden Circle' TV Spot Explains The Meaning Behind The Title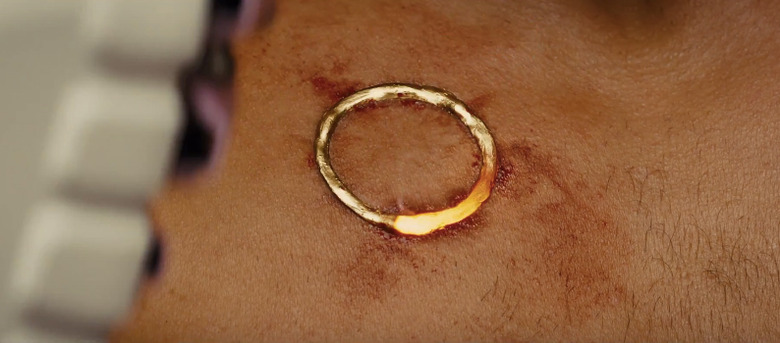 We're about one month way from seeing Taron Egerton return to action as Eggsy, an operative from the Kingsman secret agent organizations based out of London. In the sequel, Kingsman: The Golden Circle, there's a new threat on the horizon, and it appears they strike a crushing blow against the well-dressed, British spies, because every trailer shows their headquarters being completely destroyed. Now a new Kingsman The Golden Circle TV spot explains a little more about our villains by providing insight into the sequel's title.
As the trailer illustrates, by way of exposition provided by female Kingsman agent Roxy (Sophie Cookson), it appears The Golden Circle is a villainous organization that keeps the identity of their henchman secret by having their fingerprints burned off and their teeth filed down. Plus, they have a tattoo of a circle made of 24-karat gold, hence, The Golden Circle.
Though the TV spot doesn't explain what The Golden Circle is trying to do, we found out at Comic-Con that it's a secretive drug cartel that has some kind of monopoly on illegal substances. They're pretty wealthy, hence the expensive tattoo, and it has also provided the group's leader Poppy (Julianne Moore) with enough money to build her own retro 1950s town called Poppy Land that's on top of a mountain in the middle of a jungle somewhere, which is glimpsed in the above spot briefly.
Furthermore, 20th Century Fox's marketing team for Kingsman: The Golden Circle is taking full credit for the upcoming total eclipse that will be seen over the United States on Monday, August 21. Here's the promo showing how they came up with the unprecedented movie marketing idea:
If you'd like to see more from Kingsman: The Golden Circle, check out the most recently released red band trailer right here, and check out our full rundown of all the footage shown at San Diego Comic-Con back in July.
Kingsman: The Secret Service introduced the world to Kingsman – an independent, international intelligence agency operating at the highest level of discretion, whose ultimate goal is to keep the world safe. In "Kingsman: The Golden Circle," our heroes face a new challenge. When their headquarters are destroyed and the world is held hostage, their journey leads them to the discovery of an allied spy organization in the US called Statesman, dating back to the day they were both founded. In a new adventure that tests their agents' strength and wits to the limit, these two elite secret organizations band together to defeat a ruthless common enemy, in order to save the world, something that's becoming a bit of a habit for Eggsy...
Kingsman: The Golden Circle hits theaters September 22, 2017.