'Wonder Woman 2' Giving Patty Jenkins The Biggest Payday For A Female Director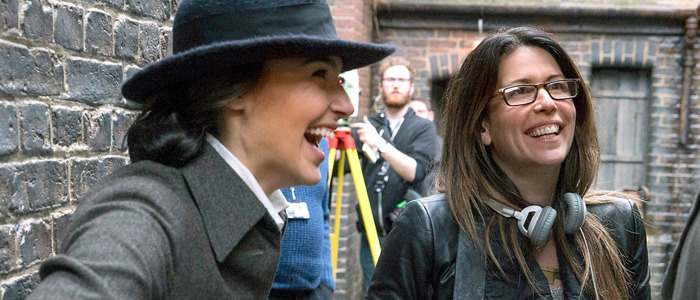 After the massive box office and critical success of Wonder Woman, a sequel was a done deal. With development already underway on Wonder Woman 2, the only thing missing was the director.
Now, it's been officially confirmed that director Patty Jenkins is finalizing a deal with Warner Bros. to return to the director's chair for the sequel to the most successful DC Extended Universe film yet. And it may make her the highest-paid female director in Hollywood.
According to Deadline, Jenkins and Warner Bros. are closing in on a "historic deal" that would allow Jenkins to be paid "substantially more and the same as a male director would receive after such a box office coup." And with Wonder Woman's whopping $103.2 million opening, with a worldwide gross nearing $800 million and still rising, that will be a decidedly hefty sum.
Deadline reported:
Typically, according to sources, a frosh director on a comic book movie gets $1.5M to $3M, while a director in the realm of Zack Snyder (who is helming DC's Justice League) received $10M against 10% cash break even for his [first] DC film Man of Steel. (That's usually paid out as 20% during pre-production, 60% during production, 10% during post and 10% following).
So it's safe to assume that Jenkins could make the jump from a $1.5 million payday to $10 million or more, if we're to go by Snyder's pay for Man of Steel. It was Snyder's first DC Film, but he was an established director who had some box office success with 300 and Watchmen, so we can view Synder's salary for Man of Steel to be the equivalent of what Jenkins could get for Wonder Woman 2. Although with its worldwide box office gross closing in on $800 million, Jenkins could easily get even more than $10 million for Wonder Woman 2.
I let out a huge breath of relief with the news that Jenkins was officially returning for Wonder Woman 2. There was a period of uncertainty when Jenkins had not publicly confirmed her return, though she was pitching sequel story ideas during the Wonder Woman press tour and had even started writing the script with DC Film co-head Geoff Johns. But why wouldn't Patty Jenkins sign on for Wonder Woman 2? She had made history with Wonder Woman breaking records as the highest-grossing live-action film by a female director, and her optimistic, earnest vision for the first female superhero has become the impetus for a total tonal pivot for the DCEU.
Jenkins was instrumental in bringing about this new era for Warner Bros.' DC Films division, so it's only natural that Warner Bros. would be eager to keep her on. The success of Wonder Woman and other female-led films this summer has also shaken Hollywood to its core, so her possible title as highest-paid female director in Tinseltown is deserved.
Wonder Woman 2 has been confirmed to be another period piece (possibly set in the '80s at the tail end of the Cold War), with star Gal Gadot returning as the titular Amazonian superhero. Wonder Woman 2 is scheduled to hit theaters December 13, 2019.