Tim Burton's Live-Action 'Dumbo' Adds Oscar-Winner Alan Arkin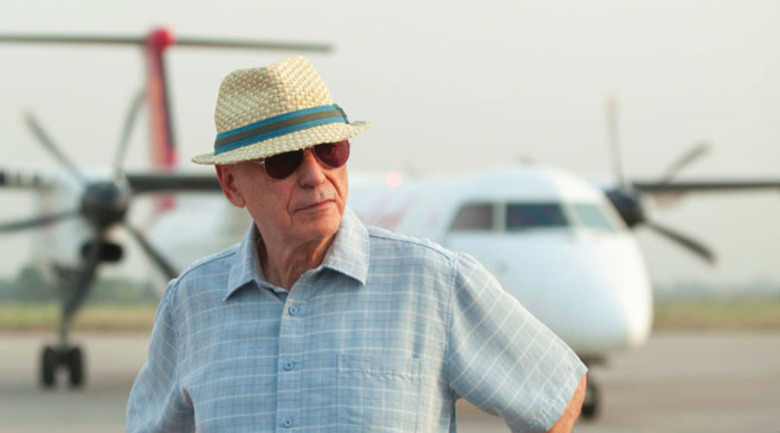 Tim Burton is currently shooting another live-action remake for Disney: Dumbo. Production began almost a month ago with Colin Farrell, Eva Green, Danny DeVito and Michael Keaton confirmed to star, and now Academy Award winner Alan Arkin (Argo, Litle Miss Sunshine) has joined the impressive cast.
Below, learn more about the Alan Arkin joining the Dumbo cast.
Variety learned Arkin is heading to London to shoot the film. The outlet doesn't have many details on Arkin's supporting character, but he'll play a Wall Street tycoon named J. Griffin Remington. It'll mark the second time Arkin has worked with Tim Burton after co-starring in Edward Scissorhands. He brought a lot of laughs to that film, and perhaps the Glengarry Glen Ross star will do the same for Dumbo. It's easy to imagine the actor, with his distinct deliveries and talent, being hilarious as a Wall Street tycoon, especially if Burton has play it a little more broadly. Arkin has a great gift for playing great, huge personalities.
Screenwriter Ehren Kruger's (the Transformers sequels) version of Dumbo is about Holt Farrier (Farrell) and his children's bond with the special elephant. Farrier was once a star in the circus, but after he returns home from the war, circus owner Max Medici (DeVito) gives him the task of watching over the ridiculed Dumbo. After it becomes known Dumbo has the power of flight, the kind-hearted animal catches the attention of the villainous V.A. Vandevere (Keaton). The entrepreneur and an aerial artist, Colette Marchant (Green), want to take Dumbo and turn him into a star.
At D23 this summer, Disney unveiled some concept art from the movie. Out editor-in-chief Peter Sciretta said "the art is colorful and fantastical, very much in line with the aesthetic established by his Alice in Wonderland movie." The aesthetic of the first wildly successful Disney reimagining was distancing. Based on the box-office receipts, millions of people happily jumped right into that CG-heavy world, but I thought the world and style were cold and, worst of all, almost exactly what would be expected from a Tim Burton Alice in Wonderland movie. I'm a bigger fan of the Burton who can surprise us and create new, imaginative worlds only he could envision. Maybe he'll pull that off with Dumbo since it seems he's telling a whole new story with only a handful of familiar elements from the original movie.
There are some exciting elements of this particular Disney reimagining, most notably Keaton, DeVito, and Green all working with Burton again. The director just knows how to get fun performances out of those actors. Burton and Keaton especially have created work together that's still standing the test of time and my fingers are crossed that they can do the same with Dumbo.
Dumbo opens in theaters March 29, 2019.