'Galaxy Quest' TV Series Is Back On Track With Paul Scheer Writing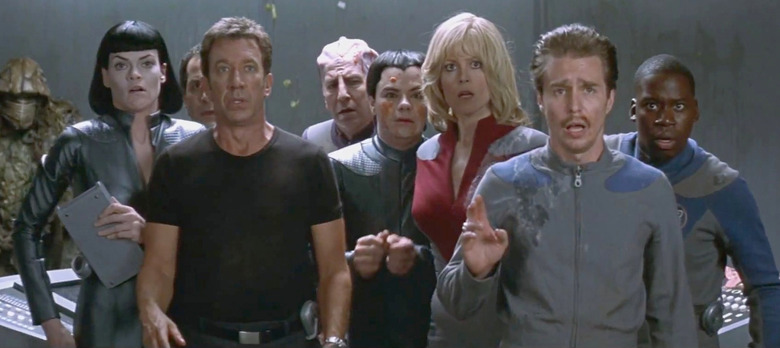 Nearly a year ago, Amazon was working with Paramount Television on making a Galaxy Quest TV series come together with the original cast reprising their roles from the film of the same name. Unfortunately, co-star Alan Rickman passed away after that, and Sam Rockwell indicated that ended up putting a halt on any development for the series. But now the project is in development again and back on track to become a reality.
Amazon and Paramount Television have been working on the Galaxy Quest TV series for months now, and a new report has surfaced revealing Human Giant co-creator and The League co-star and writer Paul Scheer has been hired to write the script, replacing the previous scribe Robert Gordon. So what can we expect from this Galaxy Quest TV series?
The Hollywood Reporter doesn't have any specific details about Galaxy Quest, but we know from our own sources that Amazon and Paramount Pictures are hoping to get Tim Allen, Sigourney Weaver, Tony Shalhoub, Sam Rockwell and Daryl Mitchell to reprise their roles. But the series won't entirely focus on the original crew of the NSEA Protector. The series will take a cue from the Star Trek reboot franchise and will also feature a younger crew as part of a reboot of the original Galaxy Quest series.
There's no word on whether Galaxy Quest director Dean Parisot will still be back to direct the series, but the show still has Mark Johnson on board as executive producer by way of his Gran Via Productions partner Melissa Bernstein. Plus, writer Robert Gordon will executive produce as well.
Paul Scheer hasn't taken on a project of this undertaking before, but he has a strong comedic background, both as an improviser and a writer. He's worked on countless television shows and has had endless supporting roles and guest spots in movies and TV shows with some of the best comedy directors around. He's also quite the devoted geek and cinephile (you surely know this if you've ever listened to How Did This Get Made?), so he's the perfect kind of writer to tackle a Galaxy Quest TV series.
We reached out to Paul Scheer after finding out about this news to ask him how it all came about, and here's what he had to say:
"This whole thing came about very organically. I was meeting with Paramount about developing a TV pilot that I had just brought to Sundance and during the conversation they asked what my dream project would be and I said to showrun and be in the new Galaxy Quest series and they were like it's so funny you say that, because we wanted to ask you the same thing. My mind was totally blown, nothing ever happens like that. I'm so lucky to work with the people at Paramount and Gran Via who are just as passionate as I am about this film."
As for what we can expect from Paul Scheer's take on Galaxy Quest, he can't reveal much right now, but he did say this:
"I don't want to give away my take but I will say that – I love this movie. So I want to be respectful of what came before this but also capture what was so exciting to me when I first saw this film as a fan of Star Trek and the world of sci-fi."
We're just hoping that the project actually comes together this time and there isn't anything that will hold it back. Galaxy Quest has been begging for some kind of follow-up for years, and Amazon and Paramount will hopefully be able to create something that satisfied fans who have been hungry for this project for awhile.
Are you excited for a Galaxy Quest TV series?