Disneyland Paris Blatantly Copies Universal, Adding Customizable Magic Wands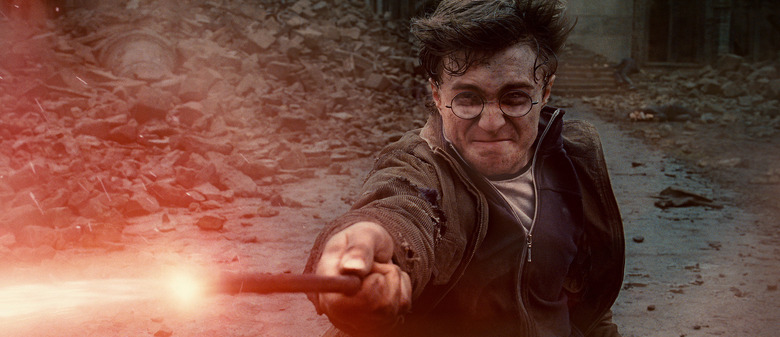 Harry Potter doesn't own wizards and magic wands — though The Wizarding World of Harry Potter at Universal Studios Orlando certainly popularized selling them in merchandise form.
The magic wand is a particularly clever piece of marketing that also is deeply connected to the world of Harry Potter — there are whole subplots about the importance of a wizard's bond with his wand and how the "wand chooses the wizard." Heck, the entire finale of Harry Potter hinges on the ownership of a wand! Merlin's wand in Disney's The Sword in the Stone? Not so pivotal.
But Disneyland Paris is piggybacking on the success of the Harry Potter wands, and creating their own brand of magic wands that can be sold at a Merlin's Shop near you! And by near you, I mean exclusively in Disneyland Paris.
Disneyland Paris is collaborating with Arribas Crystal Arts to introduce magic wands merchandise to be sold in Merlin's shop at Sleeping Beauty's Castle, according to the Disney and More blog. Sold in long, thin boxes that look eerily like the boxes that Universal Studios' Ollivander's wands are sold in, the Disney wands even have a similar shape with a customized handle. But wait! They're not made of wood or resin, but glass thanks to Arribas' specialty in crystal and glass objects.
The price of a personalized wand is 39,00 € and even more if you want to write a message of your choice ( for 4,90€ ). See the below gallery of pictures, courtesy of Arribas Crystal Arts.
The wands' connection to Disney through The Sword in the Stone is tenuous to say the least — only Merlin wielded a wand, and nothing much stood out about it except perhaps the wood looked a bit gnarly — but I have to admit that Arribas' wands do look stunning. Created by a glassblower on the spot and filled with magic crystals of your choice, they make for a much more memorable display than the Harry Potter wands. But you know, they're missing the story context as well as the interactive experience that Universal offers.
For an extra fee, Universal allows customers to experience Harry's first wand-buying experience, testing out if the wands suit them by performing various spells on objects that react to the wand. It's pretty darn cool.
It's quite unusual for Disney to chase after a Universal Studios' brand, especially with the wide variety of franchises and characters that Disney already has under its belt. It may be a sign of a changing dynamic in the theme park world, with a power balance that has shifted with the rise of more franchises gaining more theme park rides.
The wands are exclusively available at Disneyland Paris for now. Other collector's edition wands will be available for special events throughout the year.