'American Assassin' Red Band Trailer: Michael Keaton Trains Dylan O'Brien To Make A Killing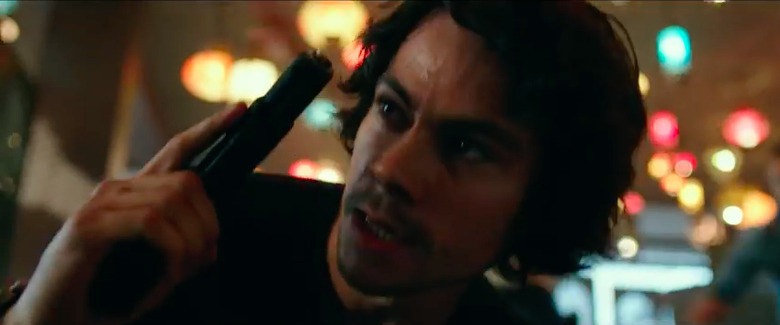 The trailers for American Assassin are a tad generic, but the filmmaker behind the thriller doesn't make generic movies. Michael Cuesta knows how to craft a drama with some real firepower. The director of 12 and Holding and Kill the Messenger has never made a thriller quite like his adaptation of Vince Flynn's novel, which stars Dylan O'Brien and Michael Keaton. The trailers paint a movie you'd probably watching during daytime TNT (which I intend as a compliment), but since Cuesta directed the film, I suspect there's more to American Assassin than the trailers suggest.
Below, watch the American Assassin red band trailer.
Here's the American Assassin red band trailer, which starts off fairly serious and contained but then goes surprisingly big and ridiculous towards the end.
Director Edward Zwick (Glory) was once attached to direct this thriller, but he lef the director's chair ( he's still credited as a co-writer). A lot of talent came and left the project before it finally got made. Antoine Fuqua (The Equalizer) was once going to direct American Assassin, and Chris Hemsworth and Colin Farrell were attached to star in it not too long ago.
Dylan O'Brien ultimately landed the role of Mitch Rapp, the lead character in 16 novels written by Flynn. American Assassin is a prequel novel, showing how Rapp went from an athlete studying Arab linguistics to working as a black ops agent for the CIA. He's trained and instructed by the best of the best of the best, Cold War veteran Stan Hurley (Michael Keaton).
It's not an overly fatherly role based on the trailer. The trailer shows Keaton involved in some of the action, so he won't just be sitting behind a desk calling shots – which is a generally boring role and I'm sure he'd make sitting behind a desk look really cool. Still, you want to see an actor like Keaton unleashed in a thriller, and not be confined to an office barking orders. After watching the American Assassin trailer, it looks like he has the juiciest role in the film, or maybe it just looks that way because he's Michael Keaton.
Another actor who makes me curious about American Assassin is Taylor Kitsch, who tends to thrive in substantial supporting roles. Friday Night Lights, Lone Survivor, The Normal Heart, and True Detective show off his talent and range, which wasn't utilized well in some big-budget flops like Battleship and John Carter. Those are his most famous movies, but they don't highlight most of his talents. Neither movie gave him a lot of support. I think we're going to see him do even more great work in movies, especially when he's given roles meatier than John Carter and Lieutenant Alex Hopper.
AMERICAN ASSASSIN follows the rise of Mitch Rapp (Dylan O'Brien), a CIA black ops recruit under the instruction of Cold War veteran Stan Hurley (Michael Keaton). The pair is then enlisted by CIA Deputy Director Irene Kennedy (Sanaa Lathan) to investigate a wave of apparently random attacks on both military and civilian targets. Together the three discover a pattern in the violence leading them to a joint mission with a lethal Turkish agent (Shiva Negar) to stop a mysterious operative (Taylor Kitsch) intent on starting a World War.
American Assassin opens in theaters September 15, 2017.