'Gemini' Trailer: Zoe Kravitz, Lola Kirke, John Cho Star In A Dreamy Neo-Noir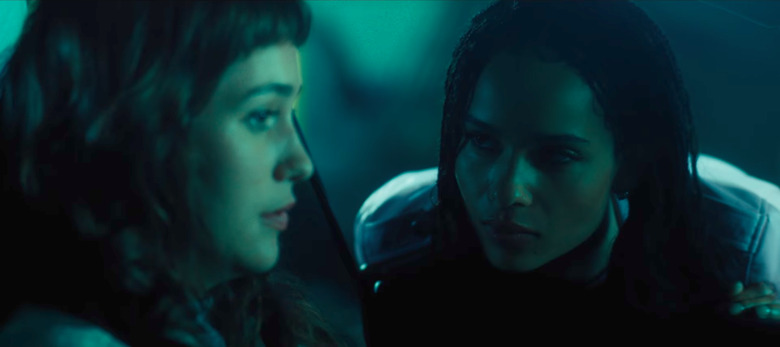 Combine the talents of rising indie star Lola Kirke, talented genre actress Zoe Kravitz, and the endlessly watchable John Cho, and you've already got a great set-up for a movie. Place them in a dark Los Angeles-set neo-noir, and well, you have one of the most intriguing indie films of the year.
The trailer for New York filmmaker Aaron Katz's Gemini paints a dark and surreal picture of a Hollywood starlet (Kravitz) and her dangerously co-dependent relationship with her dedicated assistant (Kirke). But this is more than just a narcissistic tale of female friendship, as something more malicious lurks under the surface.
Kravitz as Heather Anderson, a hot young actress plagued by paparazzi and her own ego. But her best friend and assistant Jill (Kirke) offers a grounding presence, and unwavering loyalty, to Heather. But despite her best efforts, Heather seems more than a little unhinged, resulting in a death (or accident?) that Jill horrifyingly discovers. Embroiled in a crime investigation led by John Cho's strapping police detective, Jill finds herself questioning her relationship with Heather, and possibly her own reality.
The tension is palpable in this trailer, which balances a mix of surrealism and grittiness in a Single White Female-inspired neo-noir. The trailer poses more questions than answers: Why is Lola Kirke wearing a blonde wig? Who is that Asian girl? Is Zoe Kravitz's character really dead? But it's intriguing premise and talented cast is more than enough to convince me — and hopefully others — to see it in theaters.
Gemini made a buzzy premiere at SXSW in March, where /Film's Jacob Hall called it "evocative and weird and effortlessly entertaining," though he thought it was saddled with a lackluster conclusion.Gemini is distributed by Neon, and also stars Greta Lee, Michelle Forbes, and Ricki Lake. Gemini is set to be released in spring 2018.