Netflix's 'Death Note' Movie Clip: LaKeith Stanfield Sees The Light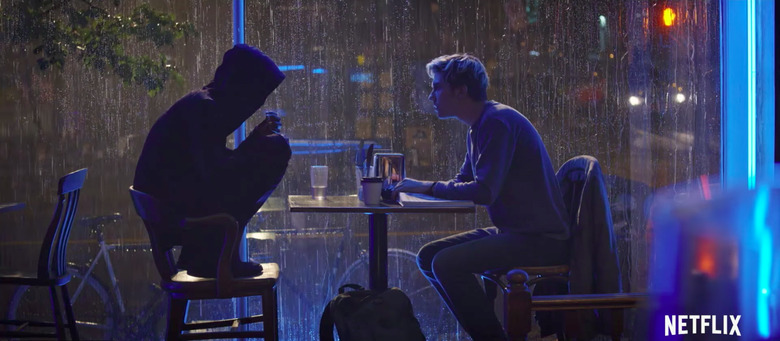 First meetings between nemeses are often the watershed moment upon which whole movies hang: Batman and the Joker, Hannibal and Clarice — the list goes on. Could the meeting of Light, the vigilante protagonist of Netflix's adaptation of the popular anime Death Note, and L, the idiosyncratic detective hunting him, live up to those expectations?
It's too soon to say. But Netflix has handily released a clip of the two foes' first meeting in anticipation for Adam Wingard's film's premiere this later month.
Death Note follows a brilliant but bored high school student, Light (Nat Wolff) who finds a mysterious "Death Note" which he discovers allows him to kill anyone whose name he writes in it. Aided by the Shinigami god that owns the notebook, and hunted by a genius detective L (LaKeith Stanfield), Light makes it his mission to rid the world of criminals who have unjustly evaded the law — even if it means killing innocents who get in the way.
In the above clip, Light is surprised by L suddenly approaching him at the darkened cafe where he's studying. Sitting in his trademark crouch on the chair, L makes small talk with Light before launching into the reason he was there: he suspects Light of being the mysterious serial killer "Kira."
"I wonder if it was a difficult decision," L abruptly says.
"If what was a difficult decision?" Light responds, avoiding eye contact with L.
"Sparing your father's life," L says, causing Light to freeze. L continues, "You must have known it would implicate you, yet you couldn't bring yourself to do it. I'll admit, I always wondered if you had a line. I guess, fortunately for us, the line you finally decided to draw points us clearly in your direction."
On that cliffhanger, that clip ends.
It's odd that Netflix would release such a pivotal, potentially spoiler-filled scene a few weeks before the movie is set to premiere on the streaming service. But, worry not, there are plenty of other twists and turns to keep viewers occupied even as L closes in on Light.
I have to say, despite my mixed feelings about a U.S.-based Death Note adaptation, I do love what LaKeith Stanfield is doing with the role of L, who is a character that can easily descend into cartoonish gimmickry. Stanfield is giving it his all, and as I slowly become a fan of his (what do we call ourselves? La Stans?), I'm starting to warm to giving Death Note the benefit of the doubt. Now, if only they would let L dress as Stanfield has been dressing himself at Comic Con.
Here's the official synopsis for Netflix's Death Note:
Light Turner, a bright student, stumbles across a mystical notebook that has the power to kill any person whose name he writes in it. Light decides to launch a secret crusade to rid the streets of criminals. Soon, the student-turned-vigilante finds himself pursued by a famous detective known only by the alias L.
Death Note also stars Margaret Qualley as Mia Sutton, Paul Nakauchi as Watari, Shea Whigham as James Turner, and Willem Dafoe as the voice of Ryuk the Shinigami.Death Note premieres on Netflix on August 25, 2017.