'Guardians Of The Galaxy Vol. 2' Honest Trailer: An Episode Of 'My Two Dads' In Spaaaace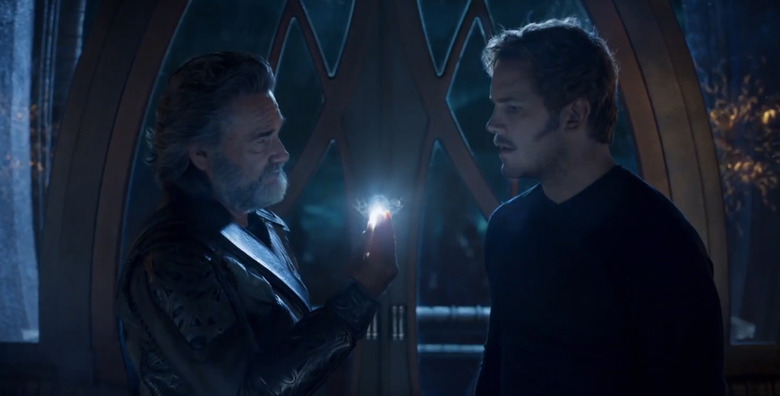 Next week brings Guardians of the Galaxy Vol. 2 to 4K Ultra HD, Blu-ray and DVD, which means Marvel fans will be watching it over and over again until Thor: Ragnarok hits theaters. Or at least until the first Avengers: Infinity War trailer arrives. But since the movie has been available on Digital HD since last week, Honest Trailers is here to take some jabs at the movie that they describe as an episode of My Two Dads in space, but with maybe too much laughing from our main characters.
Watch the Guardians of the Galaxy 2 Honest Trailer below to see what they're talking about.
Though I'm not necessarily sure that I would call Guardians of the Galaxy Vol. 2 forgettable, it's certainly not quite as memorable as its predecessor. Maybe it's because seeing these original characters again doesn't carry the same novelty as it did when they were brand new characters to us, or maybe it's because they send too much focusing on Drax laughing at everything. Seriously, it's funny a couple times, but they really need to tone it down a bit for Guardians of the Galaxy Vol. 3.
Speaking of which, there really does seem to be a growing issue with some of the more dramatic elements of Marvel movies being undercut by jokes. It's not that the jokes aren't funny, but some dramatic or tension moments don't necessarily need levity brought to them immediately. At this point, fans are all in, so maybe let the emotional beats play out a little more thoroughly.
Anyway, Guardians of the Galaxy Vol. 2 hits 4K Ultra HD, Blu-ray and DVD on August 22.