Movie Mixtape: 6 Movies To Watch After 'Logan Lucky'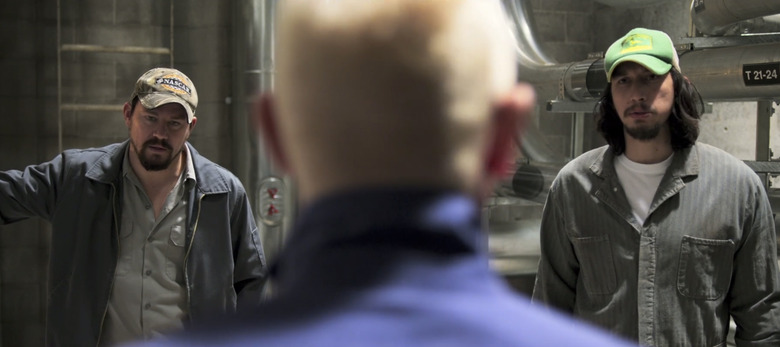 (Welcome to Movie Mixtape, where we find cinematic relatives and seek out interesting connections between new releases and older movies that allow us to rethink and enjoy what's in our theaters as well as the favorites on our shelf. In this edition: Logan Lucky.)Steven Soderbergh is back from an inactive hiatus where he limited his filmmaking involvement to Ocean's Eight, the TV movie Mosaic, The Girlfriend Experience, Godless, Red Oaks, Magic Mike XXL, Citizenfour, and Da Sweet Blood of Jesus. It's unclear if he painted anything during that time.
His first feature since Side Effects in 2013, Soderbergh has teamed again with Channing Tatum for the NASCAR heist flick Logan Lucky. Tatum and Adam Driver play drivers attempting to knock over the Charlotte Motor Speedway during the Coca-Cola 600. (Look out for newcomer Daniel Craig as Joe Bang!)
Do you need to have seen the other Wolverine movies to get Logan Lucky? No clue, but here are six films to check out alongside Soderbergh's latest caper.
The Limey (1999)
A crime counterpoint to the southern fried silliness of Logan Lucky, Terence Stamp gives a fish in hot water performance as the ex-con father of a young woman who died in a car accident that appears staged. His hound dog act through Los Angeles points him to drug dealer Terry Valentine (Peter Fonda), and the Unstoppable Human Revenge Machine blueprint for Taken takes form. It's an excellent crime film, primarily about regret and disloyalty, with strong action and a clever finale that helps prove how good Soderbergh has always been.
The Sting (1973)
I know. The song is playing in your head now. Scott Joplin's music should be in more movies.
A con movie that hasn't been topped, George Roy Hill's stylish job is overflowing with charisma thanks to Robert Redford and Paul Newman bringing Butch and Sundance to Depression-era Chicago. Their magic trick that makes Doyle Lonnegan's (Robert Shaw) money disappear into their pockets is labyrinthine and hinges on horse racing lingo, and, like the Ocean's movies, they're up against a foe worth scamming.
Talladega Nights: The Ballad of Ricky Bobby (2006)
When NASCAR shows up in film, it's usually in a documentary, something Burt Reynolds did for cash, or Days of Thunder. Compared to, say, football movies, stock car racing is severely lagging behind in cinema.
Talladega Nights used the tire-burning setting to mock Bush-era masculinity with Saturday Night Live's presidential impersonator Will Ferrell in the starring role and a French antagonist played by Sacha Baron Cohen. It was Freedom Fries: The Movie, but between the dumb comedy and cultural commentary, it showed off how thrilling and spectacular NASCAR can be.
Red Line 7000 (1965)
The American obsession with racing movies continued from the 1950s through the 1970s, and in the middle, this Howard Hawks soap opera that featured real footage from NASCAR races (and crashes) stands out as a b-movie winner. It's the kind of movie Quentin Tarantino might play at a personal film festival. In it, James Caan plays driver Mike Marsh, who was on the track when his racing partner Jim Loomis died in a terrible crash. A new driver joins the team, then a French driver joins the team, and the whole thing becomes, you guessed it, a love pentagon relationship drama. Also there is racing.
Bob Le Flambeur (Bob the High Roller) (1956)
For after you've watched Brad Pitt and George Clooney snark their way through a gigantic grift. A grandfather to several heist films (including the original and Soderbergh's Ocean's Eleven), this film noir features one last job, a degenerate gambler, and a vulnerable casino. It's one of Jean-Pierre Melville's earlier movies, and the rebel tones are all there like a more plot-driven Breathless.
Rififi (1955)
Sticking in Formula Un territory, if you're looking for impossible heist jobs, look no further. This is a masterpiece of the genre, pitting a four-man team of thieves against a ruthless gangster. Blacklisted director Jules Dassin's perfect crime film is brutal and thuggish and ingenious, but, naturally, the real gem is the half-hour heist in the middle.
The Mix
There could be more goofiness on this list. Tough guy crime has always been mirrored by parodic comedies that are a joy to watch because the people getting away with large sums of money are also having a relatively chill time with it. Or because they're so entertainingly neurotic that it's hard to imagine how've they made it this far without shooting a foot off. A Fish Called Wanda, Raising Arizona, The Pink Panther.
The closest cousin to Lucky Logan (not in looks, but intelligence) might be Bottle Rocket.
But it's fun to blend the intensity and buffoonery and charm together like this, especially since Soderbergh is our most tonally versatile filmmaker. At least of the ones currently not in retirement.