The 'Logan Lucky' Easter Egg Movie Fans Should Watch Out For

In addition to making an astonishing variety of high-quality films, director Steven Soderbergh also works in the booze industry. Since 2010, he's been importing and distributing Singani 63. It's a distilled Bolivian spirit he went nuts for while shooting Che in South America. The drink has previously appeared in David Fincher's work, and now it's in the new Steven Soderbergh film, Logan Lucky.
Below, learn more about the Logan Lucky easter egg.
ScreenCrush spotted the easter egg and it's a fun one. Singani 63 is a sponsor for NASCAR driver Dayton White (Sebastian Stan), who treats his mind and body like a temple. He's driving in the Coca Cola 600 – the race the Logan family is going to crash to pull off a heist. On White's driver suit, a Singani 63 logo is visible on his chest Lean close to your screen and take a look at the image at the top of this article to see for yourself. It's right next to the mic.
You can also see a 63 over the shoulder of a cardboard cut-out of Dayton in the film's trailer.

It's a fun easter egg and hopefully an even better piece of subliminal messaging that'll get more people trying out Singani 63. However, Logan Lucky isn't the first time Singani 63 (63 being the year Soderbergh was born) has appeared in a movie.
David Fincher made Nick Dunn (Ben Affleck) a Singani 63 fan in Gone Girl. When Dunn loses his cool in front of Detective Rhonda Boney (Kim Dickens) and throws a glass down, a bottle of Singani 63 is positioned right next to him.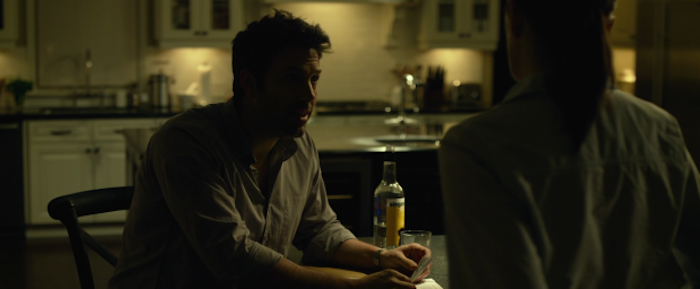 "A friend did me a big favor and gave us a very prominent placing in Gone Girl, which will be out in a few weeks," Soderbergh told Slate. "He called and asked me to send him a few bottles. Then a few days later he sent me a screen grab back with a picture of Ben Affleck sitting at the kitchen table with the bottle sitting right next to him. So that was a very nice thing for David [Fincher] to do."
The two of them have watched each other's movies over the years, provided notes, and even once tried to help Shane Carruth (Upstream Color) make A Topiary, a long-gestating passion project that has held some film buffs' attention for years.
This drink was created around 1530, but Soderbergh discovered it during the making of Che. After the filmmaker said he wished he could buy a bottle of it in the United States, a member of his crew, camera operator Gary Jay, told him he should import it himself. The director told Forbes his first thought was it'd be "selfish (but great) to have my own supply." By 2010, the family owned winery, Casa Real, was making that personal supply for Soderbergh.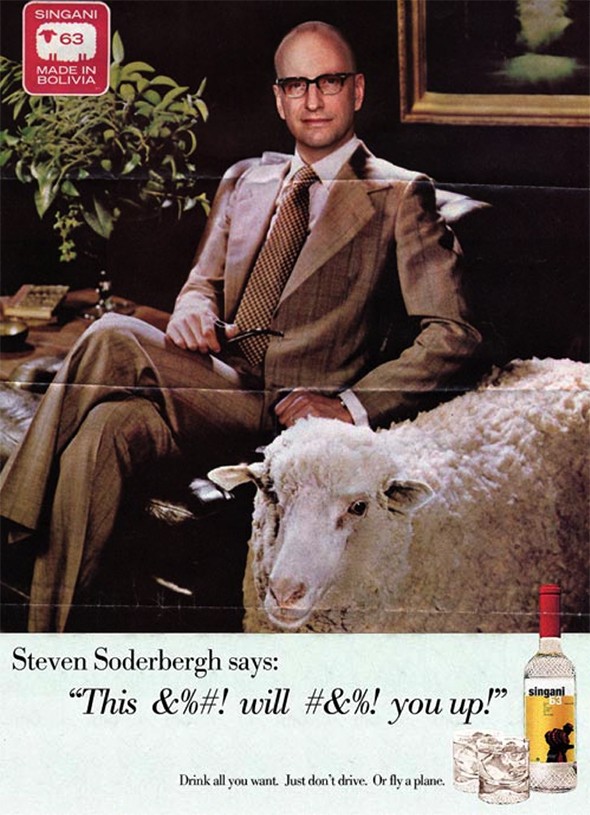 The filmmaker's body of work has always represented a great variety of interests and taste. As many films as he's made, he's never made tackled the same subject twice. Even his sequels have tried to do very different things than their predecessors. Over many years in the film industry, Soderbergh has provided so much work of substance beyond what we've seen at the theaters. Soderbergh has re-editied movies, used Twitter to post a full crime novella, and his website is full of goodies, swags, and journal entries. He's given us all kinds of work to enjoy, including a far too short-lived television series, The Knick. His career is just so varied and rich.
With Logan Lucky, Soderbergh's name is back on the big screen in a big way. Like Ocean's 11, it's nothing but fun. Soderbergh's work isn't effortless, but after watching Logan Lucky firing on all cylinders as a great piece of spectacle, it certainly feels effortless. The movie couldn't get be anymore enjoyable, but perhaps a nice glass of Singani 63 before showtime wouldn't hurt.
Logan Lucky opens in theaters August 18.