'Star Trek: Discovery' Season 2 Will Feature Fallout From The Klingon War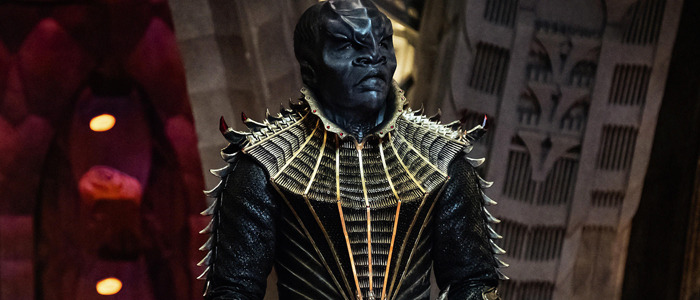 It feels like we've been writing about Star Trek: Discovery for eons already, but the new series still hasn't premiered yet and doesn't debut until late next month. But the fact that we haven't seen an episode yet won't stop anyone from thinking about where the show could go in its second season, and executive producer and co-creator Alex Kurtzman has revealed in a new interview that Star Trek Discovery season 2 will include ramifications from a Klingon War that will take place over the course of season 1.
We knew that the much-discussed Federation-Klingon War would be a major component of the show's first season, but Kurtzman's new comments to Digital Spy indicate that while the battle itself may conclude by the time season 1 ends, the effects of the war will be felt long into season 2:
"Each season needs to be about a different thing. I wouldn't necessarily want to bring the Klingon War into season two.
However, the results of the war are going to allow for a lot of new storytelling that will be the result of everything that happens and the people that are left behind; the casualties, the things that have grown in Starfleet as a result of the war. That's what we'll inherit in the second season."
Much has been made of the way this series will be "the most serialized version of Star Trek that has ever existed" (according to producer Akiva Goldsman), and will concentrate on longform storytelling in which actions have real consequences and characters will be able to grow and change across many episodes instead of having to essentially reset back to the status quo at the end of each new installment. (Deep Space Nine was heavily serialized, but many people involved are hyping Discovery as being even more serialized than that.)
It sounds like First Officer Michael Burnham, played by The Walking Dead actress Sonequa Martin-Green, is going to be on the receiving end of that growth. She's a first contact expert, and has a mysterious fascination with the Klingons:
"[Burnham] is fascinated and fixated on alien races; particularly the Klingons, for reasons that we'll come to understand are very personal for her given the fact that we're at war with the Klingons in the show, she's going to have a lot to say and do about it."
We'll find out what that means when Star Trek: Discovery finally premieres on CBS on September 24, 2017. Episode 2 will be available on CBS All Access immediately, with new episodes arriving on that streaming service every Sunday.