'The Meyerowitz Stories' Trailer: The Movie That Garnered Adam Sandler Rave Reviews At Cannes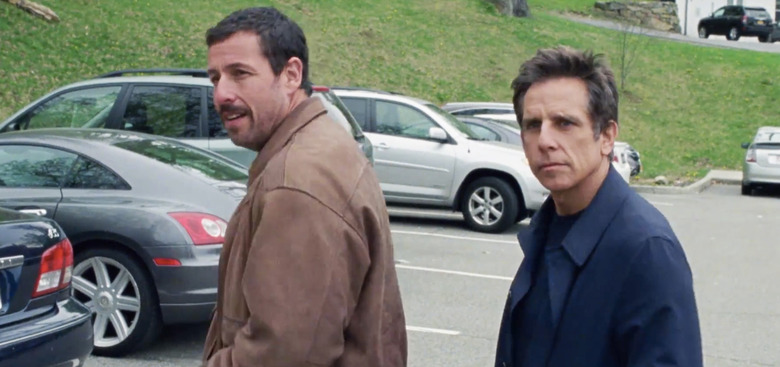 Netflix is already full of Adam Sandler movies. The only problem is that most of them are downright terrible, with the only exceptions being Big Daddy and Punch-Drunk Love, the latter of which showing us what the comedian can do when he really puts the effort into giving a great performance. Thankfully, it looks like Netflix is about to get another one of those movies.
The Meyerowitz Stories (New and Selected) debuted at the Cannes Film Festival back in May, and Adam Sander received some of the best reviews ever, with some critics even saying that the film marked the finest performance of his career. It helps that the movie also features Ben Stiller, Dustin Hoffman and Emma Thompson, and you can get a preview of the movie by watching The Meyerowitz Stories trailer below.
The trailer doesn't really give us an idea of the story, but it's clear from the brief snippets we see that we're dealing with dysfunctional characters. That's something that writer/director Noah Baumbach excels at presenting in his movies, as we've seen with Greenberg, Frances Ha and The Squid and the Whale.
This movie has an unbelievable cast, and it sounds like that combined with the presence of a great script has Adam Sandler elevating his acting game and showing us that he can do great work when he really puts his mind to it. Here's what The Telegraph wrote in their review:
Adam Sandler has been bad in so many awful films that when he's terrific in a great one, it's both a revelation and a windfall – like you're digging around at the back of the garden shed for the first time in years and find a Picasso propped up against the wallpaper steamer.
Sandler, in particular, is asked to go places he hasn't been as an actor since Punch-Drunk Love — and he gets there so seemingly effortlessly, and with such comedic precision and control of sentiment (the way he plays Danny's relationship with his daughter is delightful), you wonder what it would take for him to do it more often.
It's just a shame this kind of energy can't be better channeled into his comedies to give us something worth watching instead of fodder to be the butt of jokes.
The Meyerowritz Stories (New and Selected) is coming to the New York Film Festival before getting released on Netflix on October 13, 2017, which is when it will also get a limited theatrical release.
From writer/director Noah Baumbach, The Meyerowitz Stories (New and Selected) is the emotional and comic intergenerational tale of adult siblings (Adam Sandler, Ben Stiller, and Elizabeth Marvel) contending with the long shadow their strong-willed father (Dustin Hoffman) has cast over their lives.