'The Defenders' Featurette: This Is How The Defenders Assemble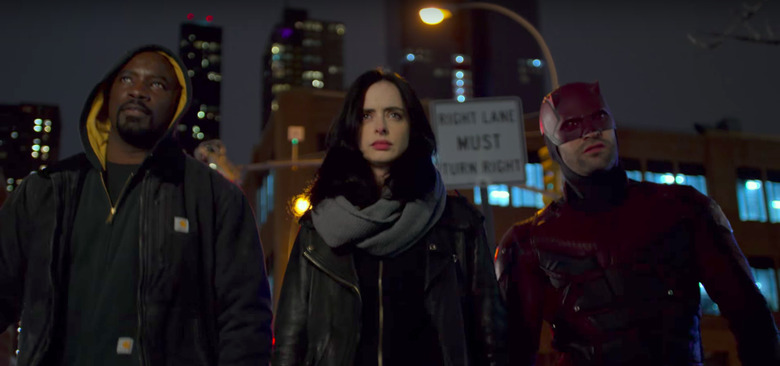 Matt Murdock, Jessica Jones, Luke Cage, and Danny Rand may not be team players, but they will have to be in The Defenders.
A new The Defenders featurette for the Marvel-Netflix miniseries dives into the motivations of each of our streetwise New York City superheroes, and what exactly brought them all together.
We've seen previous clips and trailers of The Defenders coming together to save New York City from The Hand. But this featurette gives us a glimpse into all their separate motivations for saving the city, and where each of these heroes left off after their separate solo series — Daredevil, Jessica Jones, Luke Cage, and Iron Fist — leading up to The Defenders.
"At the end of the second season of Daredevil, Matt is kind of lost," Charlie Cox says of Matt Murdock's headspace at the beginning of The Defenders. "He's given up being a superhero. But deep down he genuinely believes the city is better off with him."
Meanwhile, "Jessica's never wanted to be involved," Krysten Ritter says, implying that much not has changed for the private detective since her series. "She's never wanted to save the city, she doesn't care."
Her former lover Luke Cage "is out of prison, and now he's just trying to figure out what to do with his life," Mike Coulter describes.
"I just want to help people," Luke tells the Netflix series' connective tissue, Claire Temple (Rosario Dawson), in the featurette, who responds that there's someone she thinks he needs to meet. The featurette cuts to a scene of Danny Rand returning to New York with Colleen Wing.
"Everything leads back to New York," Finn Jones says.
Cox finally gets to the meat of the matter, describing how the Defenders unite as a new clip from the series plays, showing all four heroes at the same building looking to confront Sigourney Weaver's villainous Alexandra. Matt pulls aside Jessica as she enters the building, shocking her, while Danny and Luke both storm into Alexandra's conference room. The four of them finally escape together after being besieged by Alexandra's henchmen and Elektra (Elodie Yung). Cox says:
"The four of us are on a path to the same place. There's an ancient criminal organization whose goal is ultimate power. It's clear to them that the only chance they have to save New York is if they all work together."
"We could easily turn our backs and look out for ourselves. But it's not about us," Coulter adds. "That's what being a hero is."
The Defenders premieres on Netflix on August 18.