'Quantum And Woody' TV Show Eyes 'Community' Star Joel McHale For A Lead Role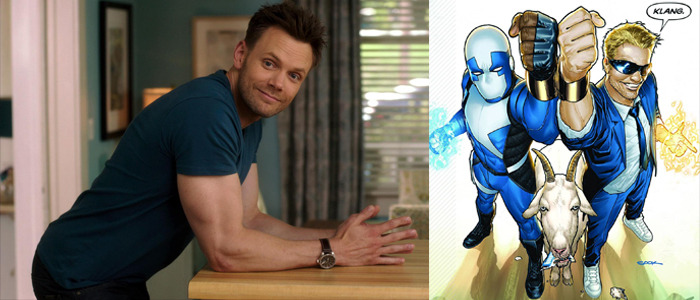 While the Russo Brothers are undertaking the gargantuan task of directing two Avengers movies back to back (it's practically three, if you count Captain America: Civil War), they're looking ahead to what will happen after the cinematic battle between Thanos and Earth's mightiest heroes. The pair haven't officially signed on for more Marvel Studios films yet, but they're ramping up development on a series of movies and TV shows that they'll produce in the years to come.
One of them is a TV adaptation of the Valiant comic series Quantum and Woody, and a new report indicates that Joel McHale (Community) is now in talks to star in one of the show's two lead roles. Judging from the character description, he's a perfect choice for this property.The Wrap reported the Quantum and Woody Joel McHale news, claiming that he's in talks to play Woody Henderson – described as "a wisecracking, womanizing slacker" in the show.
Here's the official description of the comic series from Valiant's website:
Once upon a time, Eric and Woody Henderson were inseparable. Adopted brothers. Best friends. Brilliant minds. Years later, they are estranged siblings, petty rivals, and washed-up failures. But when their father's murder leads them into the throes of a life-altering scientific accident, Eric and Woody will find themselves with a whole new purpose – and a perfectly legitimate reason to wear costumes and fight crime. Go big or go home, folks! Quantum and Woody are coming!
(And, yes, there will be a goat too. Eventually.)
These characters are described as "the world's worst superhero team," and a fun thing about them is that bizarre comic science dictates that because they were in the same lab accident, they have to make physical contact every 24 hours or they die. Our own Jacob Hall, who's read his fair share of Valiant comics, says this plot device serves as a great metaphor for both family members and old friendships, the people you've known for a long time and simply can't drop from your life even if they drive you crazy.
If McHale signs, this will mark a reunion between him and the Russo Brothers, who directed him in multiple episodes of Community. As for the idea of him playing a womanizing slacker? McHale could do that in his sleep at this point, so hopefully this role brings a bit more to the table than just Community's Jeff Winger version 2.0.
Anthony and Joe Russo will executive produce the series alongside Mike Larocca, Valiant Entertainment's Dinesh Shamdasani, and writers Andrew Barrer & Gabriel Ferrari (Ant-Man, Ant-Man and the Wasp), who wrote the pilot and are expected to become the showrunners. No word yet on who might play Woody's brother Eric Henderson, but we expect that casting to be announced soon.
It's worth noting that there's a separate comic titled Quantum and Woody Must Die! that might also serve as source material for this show, and that sounds even wackier than the traditional comic.