Photo: Is Disney Building A Star Destroyer From 'The Force Awakens' In Star Wars Land?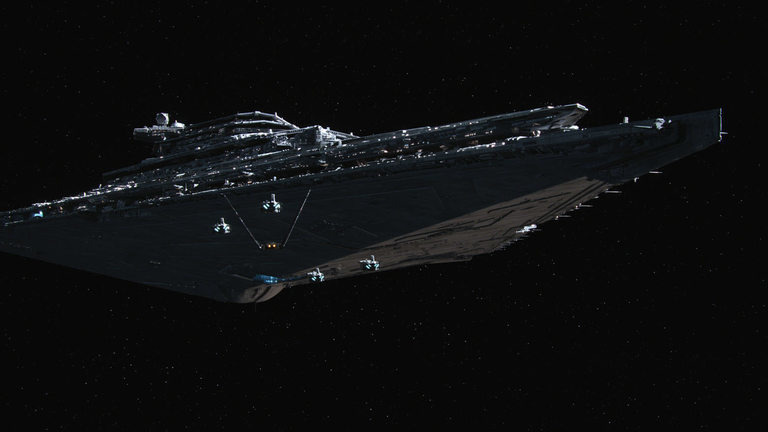 One of the most amusing things about watching the construction of Star Wars: Galaxy's Edge at both Disneyland in California and Walt Disney World in Florida has been seeing familiar designs take shape in the middle of active construction sites.
Now, a new Star Wars land construction photo hints at another location guests will probably visit during their journey: the interior of a First Order Star Destroyer.
Like other theme modern park lands, Star Wars: Galaxy's Edge will offer an immersive experience that includes dining, drinking, shopping, and simply existing in an exacting replication of a beloved fictional world. It will also include two major rides at opening: one that puts you in control of the Millennium Falcon and one that will put you in the middle of a battle between Resistance and First Order forces. The latter, which has become known as the "Battle Escape" ride amongst theme park fans, is our focus today.
Check out the construction photo below from MouseInfo, who note that the distinct shape of that interior wall looks an awful lot like the docking hangar of the Finalizer, the Star Destroyer commanded by Kylo Ren in Star Wars: The Force Awakens.
Is this the interior of the FINALIZER Star Destroyer? https://t.co/zdR1rBgYbl #StarWarsLand #GalaxysEdge pic.twitter.com/x4vVrNXjS9

— MouseInfo | Disney News & Fun (@MouseInfo) August 13, 2017
There's not a lot we know for sure about this still untitled (at least in public) attraction, but we do know that it will employ that new-fangled trackless technology that powers next-generation rides like Hong Kong Disneyland's Mystic Manor and Disneyland Paris' Ratatouille attraction. Rather than follow the same path every time, this tech allows vehicles to change paths, rotate and turn at different times, and communicate with other vehicles to provide near misses and coordinated movements. It's cool stuff, especially since the ride vehicles themselves will be "piloted" by an astromech droid.
And it's those ride vehicles themselves that actually make it pretty clear that this is most likely the Finalizer and that this is most likely the setting of the "Battle Escape" ride. After all, a model of the ride vehicle at D23 noted that vehicle is a "First Order Fleet Transport" and is used to "traverse the interiors of massive ships." Oh, and they're programmed with access codes allowing them to get around easily, which is pretty convenient for a theme park ride!
So, Disney is building a ride where guests escape a big battle in a vehicle used to transport First Order troops around ships. And Disney is currently building a structure that looks very much like a Star Destroyer from the new movies. We may not know the specifics, but we can put two and two together: this ride will almost certainly send you driving through the interior of the Finalizer, trying to escape as war rages around you. And past construction photos seemingly promise that First Order walkers will be involved as well.
Star Wars: Galaxy's Edge is currently under construction on both coasts with an estimated 2019 opening date.