The 'Hellboy' Reboot Adds 'Deadpool' Veteran Ed Skrein [Updated]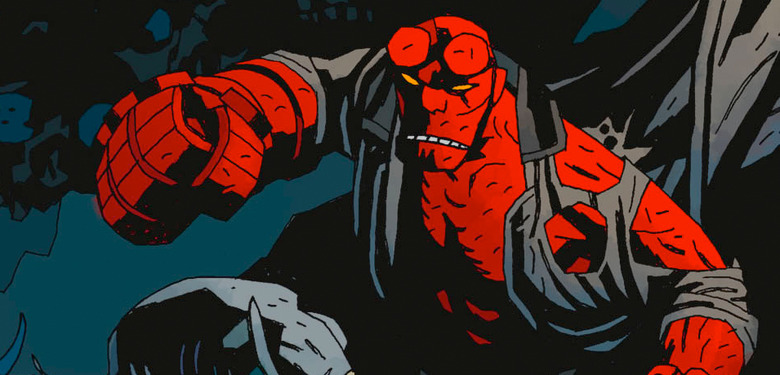 Update 2: Deadpool villain Ed Skrein has joined the cast of Hellboy as one of the central characters. We've included the new details below.Update: American Honey star Sasha Lane has been cast as one of Hellboy's central characters.
The Bureau For Paranormal Research and Defense will fight the creatures that go bump in the night once again in Neil Marshall's Hellboy reboot, now simply called Hellboy. Some new details have emerged about the comic book adaptation, including who's a part of B.P.R.D. this time around. Abe Sapien is on the team, of course, but so is someone who can listen to the dead and a scarred military-type with a dark secret.
Below, get some new details on the Hellboy reboot characters.
Splash Report's sources tell them Abe Sapien, Alice Monaghan, and Major Ben Daimio are on Red's side in the film, which will show them going up against the Blood Queen (Milla Jovovich). Alice Monaghan is a surprising choice, as she's not a massively well known character in Mike Mignola's Hellboy universe. In the comics, Hellboy rescued her as a child from fairies. She picked up a few of their traits while living with them. In Marshall's film, it's unconfirmed if this will be a part of her origin story, but she'll be able to hear the dead.Update: Sasha Lane, who won critical raves for her breakthrough performance in Andrea Arnold's American Honey, has been cast as Alice Monaghan. Although she has shot Miseducation of Cameron Post and Shotgun since that film, Hellboy will be her first major studio movie.
Major Ben Daimio is a serious, nonsense military-type who's a major character in the B.P.R.D. comics. And also [Spoiler Alert] he's the victim of a curse that transforms him into a bloodthirsty monster. [Spoiler Over] With principal photography beginning in a month, we'll know who's playing who soon.
Update 2: Ed Skrein, best known for playing the villain in Deadpool, has been cast as Ben Daimio. While a fine actor, Skrein is a disappointing choice for a character who was drawn in the pages of the B.P.R.D. comics as being a person of color.
Some other characters in the mix? King Arthur, Merlin, the witch Baba Yaga, and Gruagach, a fairy and adversary of Hellboy's. Gruagach seeks revenge against Hellboy, who the fairy curses for his current predicament. In the comic, the fairy and former warrior is stuck in a Grom's body, looking like a boar. Gruagach appeared in Mignola's "Hellboy: The Corpse" and "Hellboy: Strange Place." In "The Corpse," set during the year 1959, Hellboy, Gruacgach, and Alice Monaghan's stories are linked to one another.
Hellboy and the gang face a threat in the streets of London this time, where filming is mostly taking place. According to the report linked above, a creature will wrap its big tentacles around the London Bridge at one point.
We already know Marshall's vision for the film, which co-stars Ian McShane as Professor Broom, is R-rated. The Splash Report writes that we'll see a few heads get decapitated along the way in Hellboy's bloody journey. All of these details point to a drastically different movie than Guillermo del Toro's delightful films. Another difference between del Toro's interpretation and Marshall's? Marshall's will feature the B.P.R.D. headquarters located on a snowy mountainside (where it has been for much of the comic book run), not in a city. Expect to see plenty of artifacts and ancient weapons during the walk and talk scenes, presumably led by David Harbour (Stranger Things) as Hellboy.
Hellboy currently doesn't have a release date.