/Film Visited The 'It' Experience In Hollywood And Lived To Tell The Tale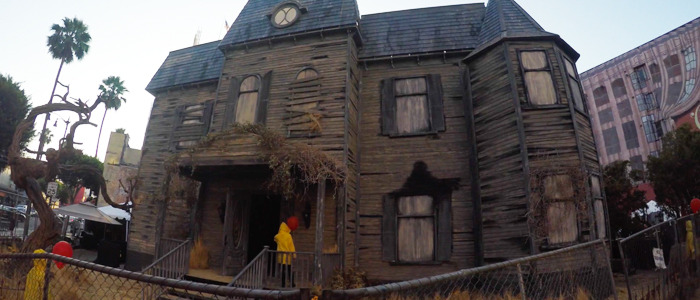 An empty parking lot once sat at the corner of Hollywood and Vine, but a two-story haunted house now towers above tourists as they traverse that intersection. This is The It Experience: Neibolt House Hollywood, an elaborate recreation of the house that will appear in the upcoming movie adaptation of Stephen King's It, and we have video from inside.
The It Experience Video Review
Billed as "a haunted house experience," I was much more impressed with the production design than any of the individual scares themselves. Although there were a couple moments that made me jump, I was more impressed than terrified throughout.
The real joy of this thing – for me, anyway – was in all of the little details: the spectacularly realized exterior of the house (with all of those rusted fences, hay, and faux-burned boards everywhere), the eerie music and dripping sound effects blaring from speakers outside, a spiral staircase being the first thing you climb when you walk in the front door (so you know this house isn't just a massive facade), the peeling wallpaper inside, a map of Derry's sewers that lines one room, old issues of Fangoria magazine and a walkie-talkie spread out on a table, a toilet with a projection that makes it look like bugs are crawling all over it, a clown-infested chamber with pneumatic bursts of air timed to scare you, an animatronic Beverly whose face is buried in a bloody sink, hands bursting through walls in a staircase, and the faint cries of "you'll float, too!" as you traverse a final sewer tunnel, complete with projected lighting on the ceiling that gives it a perfectly dank atmosphere.
I won't ruin every scare for you, but I found the whole thing to be much more akin to Disney's The Haunted Mansion than a so-scary-you'll-crap-your-pants haunted house, which I personally appreciated. I like having time to glance around and check out the authentic set props instead of constantly worrying if someone was going to jump out and grab me. I've never been to Halloween Horror Nights, but just to give you a barometer of where this falls on the scale of haunted houses, this sounds less intense than Universal's annual event. If I had any complaints, I'd say the guides could have used a little more practice, but the good news is that I attended a soft opening for the press, which was the first time these guides were working with crowds. I'm confident they'll work out the kinks in the next day or two and get the timing down to a science.
The It Experience is open from today until September 10, 2017. Tickets are free, but because it's a free event in Los Angeles, every open slot was reserved within a few hours of the reservations becoming available online. But fear not: I spoke to some people who work there, and they said that if you don't have reservations and want to check it out for yourself, they will be accommodating as many walk ups as possible because they're anticipating some cancelations. You'll have to take your chances, though, because they can't guarantee you'll get in if you wait in the walk up line.
It creeps into theaters on September 8, 2017.