'Scandal' Creator Shonda Rhimes Departs ABC And Signs A Deal With Netflix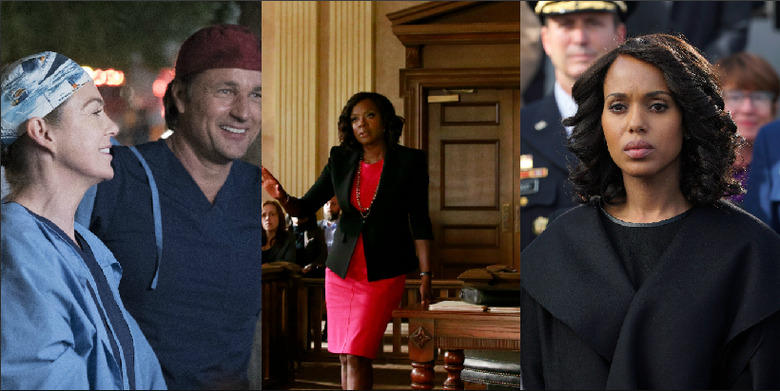 Shondaland and ABC's Thursday night lineups had become synonymous with each other for 15 years — but no longer. Shonda Rhimes is bringing Shondaland to Netflix, jumping ship from the Disney-owned television network that housed her beloved, award-winning hits like Grey's Anatomy, Scandal, and How To Get Away With Murder.
The sudden move to Netflix takes place a week after Disney announced it was pulling its movies from the streaming service. Talk about a scandal.
Rhimes struck a multi-year deal with Netflix to produce new series and projects under her Shondaland production company. While Rhimes' current shows that air on ABC like Grey's Anatomy, Scandal and How to Get Away with Murder will continue to air on the network, streaming rights will remain with Netflix, as will any future projects that Shondaland will produce under the new deal. Rhimes' frequent producing partner Betsy Beers will also make the move to Netflix
This news comes a week after Netflix suffered a blow from Disney announcing it would pull its original movies from the platform to create its own subscription streaming service. But Netflix seems to have punched back with this Shondaland deal, plucking ABC's most lucrative producer right from under its nose. ABC is owned by Disney.
It's the sort of twist worthy of a Shondaland plot line.
"Shonda Rhimes is one of the greatest storytellers in the history of television," Ted Sarandos, chief content officer at Netflix said of the Shondaland deal. "Her work is gripping, inventive, pulse-pounding, heart-stopping, taboo-breaking television at its best."
In a statement accompanying the announcement, Rhimes said:
"Shondaland's move to Netflix is the result of a shared plan Ted Sarandos and I built based on my vision for myself as a storyteller and for the evolution of my company. Ted provides a clear, fearless space for creators at Netflix. He understood what I was looking for — the opportunity to build a vibrant new storytelling home for writers with the unique creative freedom and instantaneous global reach provided by Netflix's singular sense of innovation. The future of Shondaland at Netflix has limitless possibilities.
Our current shows will continue to thrive on ABC and Shondaland will be there every step of the way. I could not have asked for a better home to begin my career. I continue to be grateful to work with so many talented people – especially our studio gladiator Patrick Moran and our most powerful and brilliant champion Channing Dungey.
Starting today, we are thrilled to begin creating new Shondaland stories with Netflix.  Everyone at Shondaland is honored to expand both our audience and our creative identity with Ted and the entire team at Netflix."
Rhimes had shown no signs of discontent with ABC, which is what makes this deal such a surprise. But Netflix has been aggressive in its pursuing of innovative creators, recently bringing Joel and Ethan Coen on board for the duo's first television series, and strengthening the platform's clout against primetime networks. And Netflix may offer more freedom for Rhimes to explore more political storylines that she has touched on in Scandal or Murder.
This will be a blow to ABC however, who has struggled with finding hit dramas outside of Shondaland productions. If you are skeptical of Rhimes' impact on the TV landscape — or at least the prime time soap landscape — I want to remind you that Grey's Anatomy is 14 seasons in and still going strong.