'Fast & Furious Live' Will Feature Vin Diesel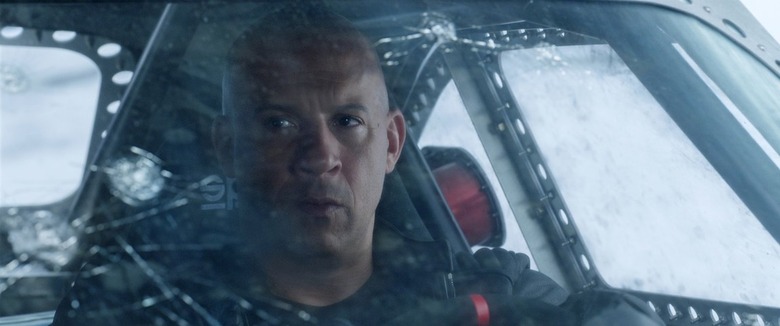 What's Fast & Furious without Dominic Toretto? Fast & Furious Live, which was announced back in February, won't be Diesel-less. Vin Diesel has a part in the show. The actor recently filmed something in New York for Fast & Furious Live, something he believes is "pretty state of the art" stuff.
Below, Diesel teases his role in the Fast & Furious live.
The show is on track to begin touring January of next year. The global arena tour features a recreation of some of the franchise's most well-known set pieces and locations, including downtown Los Angeles. Writer and director Rowland French's show will, according to the press release, have "precision performance drivers, blockbuster set design, authentic digital projections and state-of-the-art physical obstacles." It's also going to have Vin Diesel in some capacity as well, who shared the news on his Facebook page – a place I suggest visiting now and then. It can get pretty weird!
In the video Diesel wears Dom's signature outfit and says the following:
As you know, my work with Fast and Furious never ends, which I'm grateful for because of you all. I am in New York, believe it or not, and we are filming something that is going to be pretty state of the art, something no one's ever seen before, which is a live show. I think it's first going to be showed at the O2 Arena in London, but it's going to go all over the world and we're really excited about it. It'll be a way for you to see the action first-hand first time it's ever been done.
Fast & Furious Live premiering in London is new information. Tour dates have yet to be announced for the show. No word if any other cast members will be a part of the show, but let's all keep our fingers crossed for a Roman (Tyrese Gibson) cameo.
Diesel will play Toretto again on the big screen in Fast & Furious 9, due to come out on April 19, 2019. As of this moment, he doesn't have any non-Marvel or Fast & Furious movies we know of coming out. There's another xXx film in the works – which is a sequel to look forward to after the nutty Return of Xander Cage – but I'm hoping we'll see Diesel in an original film as an original character soon. In the last decade, he's only done three non-franchise movies, including Billy Lynn's Long Halftime Walk Home. He showed some vulnerability and range in Ang Lee's film, which left me wanting to see more of what the actor can do these days when he's with the Fast & Furious family.