Tom Cruise Seemingly Injured During 'Mission: Impossible' 6 Stunt Jump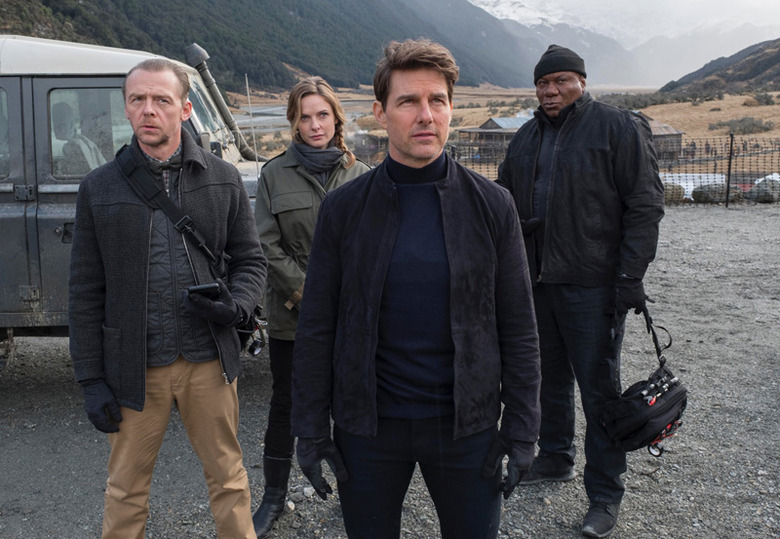 Even at 55 years old, Tom Cruise is still known for doing his own stunts across the various blockbusters he's starred in over the years. The Mission: Impossible franchise has become a consistent showcase for at least one wild stunt that Tom Cruise has decided to do himself. But one of the less complex stunts on the set of Mission: Impossible 6 appears to have not gone exactly as planned.
Footage of Tom Cruise injured on the set of Mission: Impossible 6 has surfaced online after the actor attempted a jump between two buildings in London. Instead of landing on the building where he was jumping towards, he fell short and plowed into the top and side of the building, though he was able to catch himself and hoist his body to the rooftop.
After Cruise pulled himself onto the roof, he briefly continued the scene by limping off camera, almost looking like the fall short was a planned part of the stunt. But then once Cruise gets off camera, he collapses briefly, seemingly catching his breath, before stepping up to limp around the roof, pausing again to compose himself before beckoning to the wire crew on the other side of the jump to pull him back. Once unhooked from the harness on the other side, he limps away, presumably to get checked out by the medic on set.
As of now, the extent of Tom Cruise's injury is unknown, but this wouldn't be the first time Cruise injured himself during a Mission: Impossible stunt. During the famous Mission: Impossible – Rogue Nation stunt that had Cruise hanging on the outside of a plane, the actor was hit by a runway particle. Cruise explained, "I was hit by a tiny particle from the runway and I literally thought it broke my ribs."
Cruise was even getting injuries in the early days of the franchise when he was about 20 years younger. In the original Mission: Impossible, when the actor ran from the exploding aquarium restaurant, he hurt his ankle. Plus, during Mission: Impossible II, the actor tore his shoulder while jumping across a cliff-face.
No matter how serious the injury is, we hope Tom Cruise is doing all right and he'll be back to work quickly. There's no word on whether production will be delayed due to this injury, but as soon as any new information surfaces, we'll let you know.
If you want to see how Tom Cruise injured himself on the set, unfortunately you'll have to head over to TMZ to watch the video of the stunt gone wrong.