'Downsizing' First Look: Matt Damon Shrinks Himself For Director Alexander Payne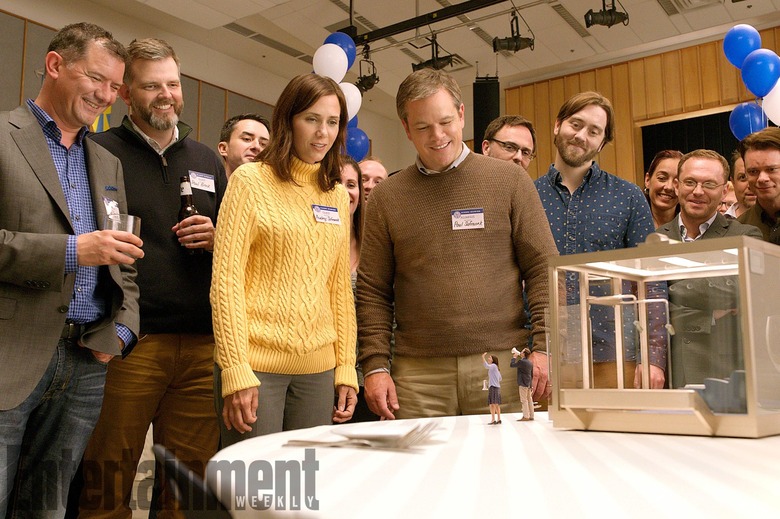 In the future, Matt Damon can become five-inches tall thanks to Norwegian scientists. That's the premise of Alexander Payne's (Nebraska) next film, Downsizing, in which overpopulation has led to people shrinking themselves to live a "bigger" life in a "bigger" home and help the environment while they're at it. After Sideways, Payne wrote the script with Jim Taylor, but due to its ambition and required visual effects shots, it took a long time to get made. According to Payne, though, it got made at the right time.
Below, check out the Downsizing first look.
Entertainment Weekly has the first official photo from Payne's next movie, featuring Damon and Kristen Wiig as Mr. and Mrs. Safranek, saying hello to a downsized couple: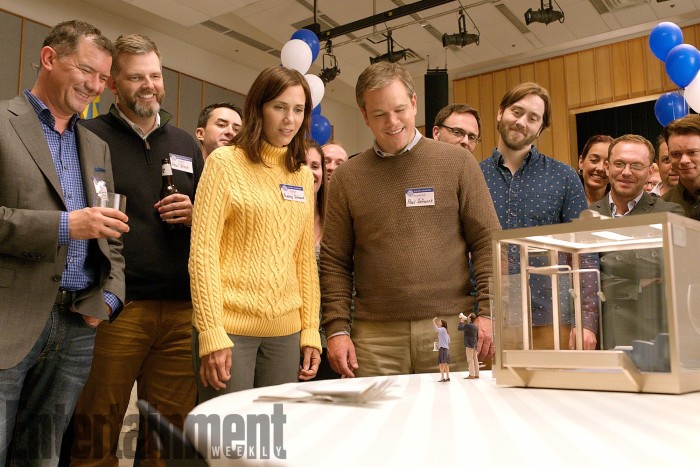 Damon and Wiig play a married couple who decide to get downsized. Only one of them goes through with it, though. At five inches tall, people can experience some of their dreams, like living in a huge mansion and consuming as much as they want. Our editor-in-chief Peter Sciretta saw 10 minutes of the movie at CinemaCon and was left very impressed.
While speaking with EW, Payne says he takes the premise and runs with it like an episode of Black Mirror without the "science-fiction" feeling:
The basic premise is a very delicious one, and it's the premise that saw Jim and me through the many years to get this made... it's very much like the previous movie Jim and I did, in that it takes something inherently absurd and ridiculous, but tells it with utter earnestness... kind of like what you see in Black Mirror. Some episodes of Black Mirror take a premise and run with it, but I'm not interested in the science fiction feeling; I always aspire to make a Hal Ashby or a Robert Altman movie, and the plot has a certain episodic structure.
Payne's next movie is actually why there was such a long wait between Sideways and The Descendants. The director and his co-writer couldn't quite crack the script or get financing:
This film was very difficult for us, and it was the reason why there was a long gap for me between Sideways and The Descendants. We spent a lot of time trying to perfect this screenplay. We don't choose [when to make a film], it's when we get financing [and] we couldn't get financing for it. We also hadn't quite cracked the screenplay yet; so as painful as that was in hindsight, I'm glad the film was made when it was made. The same thing happened to me years before on About Schmidt. About Schmidt was going to be my first feature in 1991, but I couldn't get financing and maybe hadn't quite cracked the screenplay, so it wasn't made for 11 more years. It happens sometimes.
Downsizing is easily the biggest production Payne has directed to date. He's never made a movie of this scope. Be a larger scope or not, it's still an Alexander Payne film. The story "requires a bigger budget," but "it's exactly our same sense of humor" the director told EW. A little bit of Black Mirror mixed in with that sense of humor and some Altman and Ashby sounds like a powerful recipe a director like Payne could pull off. His next movie co-stars Christoph Waltz, Laura Dern, Alec Baldwin, Jason Sudeikis, Neil Patrick Harris, and Udo Kier.
Downsizing opens in theaters on December 22.