'The Disaster Artist' Has Only 99.9% Of Tommy Wiseau's Approval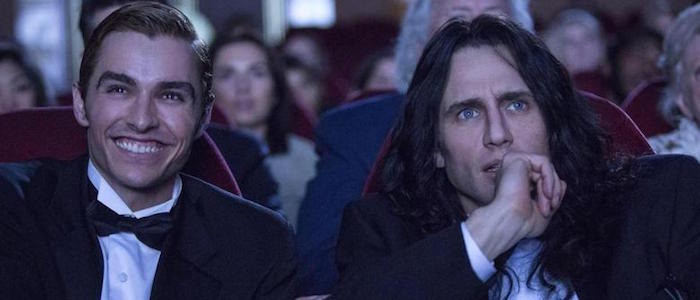 If there's one opinion we really want to hear about The Disaster Artist, it's from the director of The Room. Considering Tommy Wiseau lived it, he probably has more than a few thoughts on how actor-director James Franco has depicted him and his beloved bad movie. After seeing the adaptation of actor Greg Sestero's book at the SXSW Film Festival, he only took issue with .1% of the movie.
Below, find out Wiseau's thoughts on The Disaster Artist.
The Room director is a fan of the movie, which our own editor Jacob Hall called a "hilarious and sincere tribute to one of the worst movies ever made." Franco told Entertainment Weekly about Wiseau's reaction after the SXSW screening:
He didn't see it until SXSW, and we were unsure of what he was going to think, especially because he said, [mimicking Wiseau's accent] 'Greg book only 40 percent true.' It was like, well, that's what we based it on, so what are you going to think about our movie? And that screening was so successful, it was like a rock concert. That and the Spring Breakers screening at SXSW [in 2013] would be the two greatest screenings of my life, I imagine. I was like, 'So, Tommy, what did you think of the movie?' And he said, 'I approve 99.9 percent.' He said, 'I think the lighting, in the beginning, a little off.' [Laughs] I told Brandon [Trost, The Disaster Artist's cinematographer]. He was like, Yeah, maybe we should watch The Room, get some lighting pointers!"
That's both what one would and would not expect from Wiseau's reaction to The Disaster Artist. What a specific, odd critique. It's probably not the first thing that would run through most people's minds after watching themselves played by James Franco, but then again, most people aren't Tommy Wiseau.
The reaction to the movie at SXSW was a huge success, but as Franco said, the Spring Breakers screening at the fest was just as electrifying. The entire festival audience was fully on board for that ride, which from the sound of it, was the case for The Disaster Artist as well.
Here's the synopsis for Franco's upcoming film:
This is a true story about the making of THE ROOM – the cult classic described as the "Citizen Kane of bad movies". THE DISASTER ARTIST, directed by and starring James Franco, is a buddy comedy about two outsiders chasing a dream. When the world rejects them, they decide to make their own movie – and it's a movie so wonderfully awful due to its unintentional hilarious moments, meandering plots and terrible acting.
The Disaster Artist opens in select theaters December 1 and gets a wide release a week later.