'Westworld' Season 2 Cast Adds Actors From 'Get Out', 'Vikings', And 'Tyrant'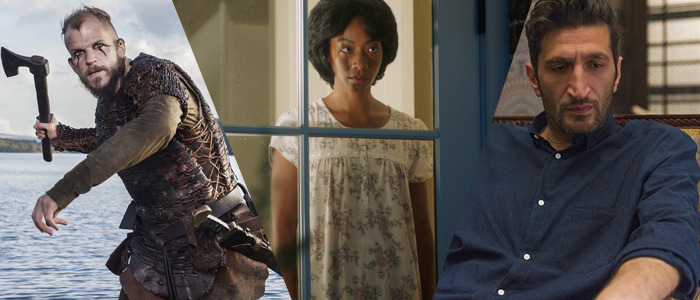 HBO's Westworld season 2 cast has just grown by three. But will these new additions be previously-unseen androids in the western-themed park, fodder for the robot uprising, or something else entirely? Read on to find out.
Deadline brings word about the show's three newest players, who have all appeared on other TV shows and movies before.
Let's run down the new members of the cast. Joining the surviving cast members from season 1 (including larger roles for characters played by Talulah Riley, who plays Angela, and Louis Hertham, who plays Dolores' father), we have:
Gustaf Skarsgård (Vikings, Kon-Tiki) as Karl Strand, "a white-collar guy comfortable in the field." Sounds like this series regular could be an asset for Stubbs' security team in the park, because they're going to need all the help they can get.
Fares Fares (Tyrant, Zero Dark Thirty, Rogue One) will play Antoine Costa, "a tech expert with an objective perspective." Could he be called in to try to shut down the androids in the park as a last resort?
Betty Gabriel (The Purge: Election Year) is Maling, a character tasked with trying to restore order on the ground. Gabriel was phenomenal as Georgina in Get Out, so I'm particularly excited to see her score a recurring role in a hugely-watched series like this.
And here are a few we already knew about:
Neil Jackson (Sleepy Hollow, Blindspot), a new series regular playing a character named Nicholas, "a charming man who finds himself in uncharted territory."
Jonathan Tucker (Hannibal, Justified), playing a recurring character named Major Craddock who's described as "an imposing military officer."
Katja Herbers (The Leftovers) will play a seasoned guest who happens to be in the park when the robots begin their uprising. I don't imagine it'll be easy for her to escape, and since she's a new series regular, we'll be seeing a lot of her character.
At the end of season 1, Robert Ford (Anthony Hopkins) launched a new storyline inside the park called "Journey Into Night," and the first preview of that narrative for the park's shareholders ended with a bloody robot revolt and resulted in a major character's death. The Westworld season 2 premiere may also be titled "Journey Into Night," but we know there will be a bit of a time jump between the first and second seasons, so don't expect this episode to pick up immediately where the last one left off. While season 1 was all about control, the showrunners have described season 2 as being all about chaos – and the stakes and scope of the show are set to "increase dramatically."
Westworld is set to return to HBO sometime in the spring of 2018, but the network has not provided an exact date for the season 2 premiere yet.