Bryan Fuller Keeps Teasing Us With A 'Hannibal' Revival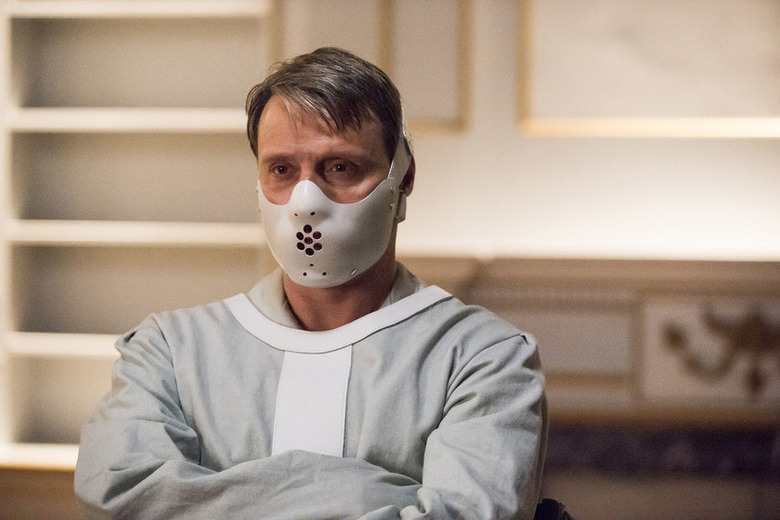 Like the rest of us Fannibals, Bryan Fuller is eager to bring Hannibal back from its watery grave.
The former Hannibal showrunner has confirmed that "conversations" have begun around reviving Hannibal for a potential fourth season after NBC canceled the series after its third season in 2015. While that's exciting news for any cannibal serial killer lover, Fuller did caution fans that it could still be some time before the show returns.
Fuller has been busy lately working on Starz's American Gods, an adaptation of Neil Gaiman's ambitious fantasy novel that has earned praise for its stylish flair and award-worthy performances. But Fuller is not too occupied to respond to Fannibals who eagerly ask him on Twitter about Hannibal news.
On Tuesday Fuller gave the most cogent update on Hannibal, confirming that fellow Hannibal executive producer Martha De Laurentiis has "started those conversations" about a Hannibal revival.
"Conversations couldn't start until 2 years after the final airing of season 3," Fuller wrote on Twitter on Tuesday. "@neoprod has started those conversations. This takes time." For the record, "@neoprod" is the Twitter handle for De Laurentiis.
Conversations couldn't start until 2 years after the final airing of season 3. @neoprod has started those conversations. This takes time.

— Bryan Fuller (@BryanFuller) August 9, 2017
Fuller has been teasing that he wants to bring the series back for a revival ever since it was cancelled, with the aim of getting conversations started two years after the series finale. He explained to Collider that two years was the mark for the start of conversations because the rights for the character and story could be up for grabs again.
"August 2017 is when we can actually start talking about it," he said. "That's when we would have to see what the rights are for the character and for the story, and see who's interested and how we get it done."
Fuller wasn't just twiddling his thumbs until August 2017. He told director Mick Garris that he had a "great idea" for a fourth season of the show on Garris' podcast, "Post Mortem."
"I have conversations with (Hannibal executive producer) Martha De Laurentiis. I have conversations with Mads and Hugh. We're are all excited about the prospect of returning to the story. There's some hurdles to get through... [But] I just had a great idea for season 4. There's an interesting next chapter in the relationship between Will Graham and Hannibal Lecter that would be fascinating to unpack. I've shared it with the gentlemen and they're both keen on it."
Fuller hasn't spoken about whether Mads Mikkelsen and Hugh Dancy would return to their roles of Hannibal Lecter and Will Graham, respectively, but he seems intent on it in his comments. Mikkelsen and Dancy reprising their roles would be pivotal to the return of Hannibal. Their chemistry and antagonism is what made the show so enthralling to watch — apart from Fuller's stylistic flairs and the far-too mouthwatering food designs. I'll admit I never finished watching Hannibal because binge-watching it gave me to much anxiety, but I enjoyed it when I did watch it. As a big Fuller fan, and a fan of Hannibal's ambitious narrative, I would tune in for another serving.