Netflix Releases 'The Crown' Season 2 Trailer And Premiere Date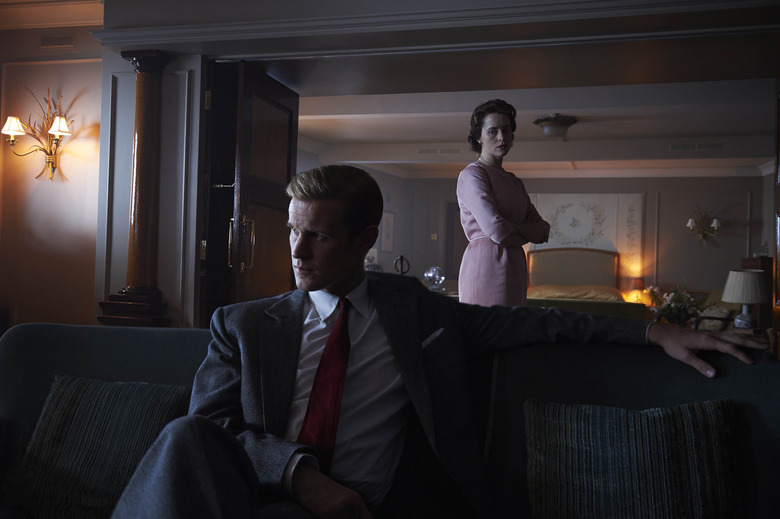 Long live the Queen, even as she faces the biggest scandals and crises of her new reign.
The Netflix series The Crown is back, documenting the early years of Queen Elizabeth II's (Claire Foy) reign as she ascends to the throne shortly after World War II. Despite the turmoil that her reign undergoes, Queen Elizabeth the II has gone on to become the longest-reigning and longest-living British monarch of all time — sitting on the throne still today.
Settling into her role as Queen, Elizabeth II finds her empire and marriage begin to fall apart, as her husband (Matt Smith) and her sister (Vanessa Kirby) engage in scandals that threaten the crown.
Matthew Goode makes his debut in The Crown season 2 trailer as the society photographer who woos and marries Princess Margaret. Meanwhile, Smith's Philip Mountbatten, the Duke of Edinburgh, is seemingly exposed as a philanderer whose "wild spirit" threatens his marriage to the Queen.
The second season will reportedly cover those domestic scandals as well as the Suez Crisis in 1956 through the retirement of the Queen's third Prime Minister, Harold Macmillan, in 1963 after the Profumo affair political scandal.
Here's the official synopsis for The Crown released by Netflix:
The Crown, a Netflix original series, tells the inside story of Queen Elizabeth II's reign, as the fragile social order established after the Second World War breaks apart. Based on the award-winning play, The Audience, the series reunites creator/writer Peter Morgan (The Queen, Frost/Nixon) with director Stephen Daldry (Billy Elliot, The Hours) and producer Andy Harries (The Queen).
Beginning with soldiers in Her Majesty's Armed Forces fighting an illegal war in Egypt, and ending with the downfall of her third Prime Minister, Harold Macmillan after a devastating scandal, the second season bears witness to the end of the age of deference, and ushers in the revolutionary era of the 1960s.
The YouTube summary expands upon the scandal rocking Queen Elizabeth II's reign, describing, "Queen Elizabeth's marriage and empire crumbles around her, she must do what is required to ensure the British monarchy survives."
Below are official photos of the new season released by Netflix.
The Crown Season 2 will premiere on Netflix on December 8, 2017.