'Batman Vs. Two-Face' Trailer: Adam West Goes On His Final Crusade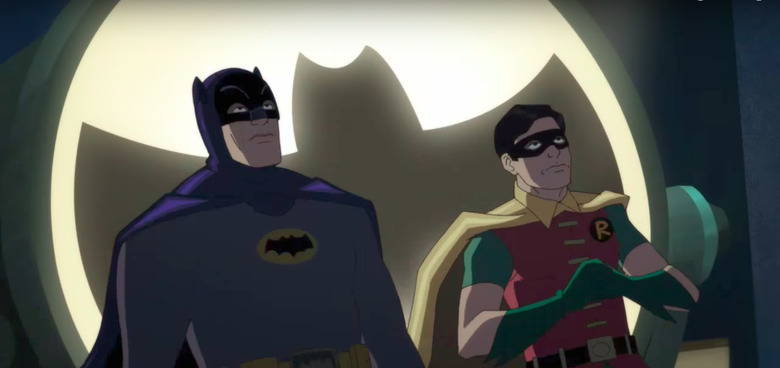 Batman is going back to the '60s for one last time.
The trailer for Batman vs. Two-Face, released posthumously after Adam West's tragic passing earlier this year, features the iconic Batman actor's last turn as the Caped Crusader, standing in animated form alongside his old pal Burt Ward as Robin against William Shatner's Two-Face.
Batman vs. Two-Face sees West and Ward reprising their roles as Batman and Robin, which they made famous in the beloved and (intentionally, hilariously) campy '60s Batman TV series.
The animated film reimagines the origin of Two-Face, who traditionally becomes deformed after getting hit in the face with sulfuric acid, causing him to go insane. The trailer follows Batman and Robin as they witness Hugo Strange's experiment to "suck the evil" out of Batman's iconic Rogue's Gallery go wrong, causing Harvey Dent to be injured and deformed. Played by Shatner at his hammiest, Dent becomes the malicious Two-Face. Vengeful and angry, Two-Face wages war against Batman and Gotham, at one point kidnapping Robin, the Boy Wonder, and threatening to turn him into the Boy Guinea Pig.
West and Ward had reunited in animated form once before for Batman: Return of the Caped Crusader in 2016, and the venture was so successful that the sequel was immediately put into production. West had recorded all of his lines before he passed away in June, which shook fans across the world (see our /Film tribute to him).
The cover art for Batman vs. Two-Face was released yesterday, along with tidbits about how the storyline comes from an episode of Batman originally written by Harlan Ellison that intended to introduce the villain Two-Face in the TV series. The story instead became the basis for a comic book in 2014.
Batman vs. Two-Face will be available on Blu-ray and DVD on October 17, 2017. However it's likely that the film, like other DC Animated projects, will be available on Digital HD or have a limited run in theaters thanks to Fathom Events before the physical copies hit the shelves.