The 'Hellboy' Reboot's Official Title Is Confirmed To Be... 'Hellboy'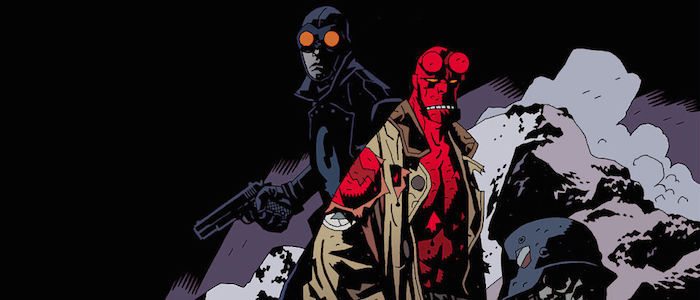 After the news broke that Milla Jovovich was cast in the Hellboy reboot as the Blood Queen, everyone started to notice Neil Marshall's take on the demonic superhero was no longer being called Hellboy: Rise of the Blood Queen. It turns out that the Hellboy reboot title is officially...Hellboy. Just Hellboy. As sweet and simple as you can get.
A Lionsgate representative confirmed to MovieWeb that the title for Neil Marshall's upcoming reboot, starring David Harbour as the titular character, is simply Hellboy.
"The official title is just Hellboy. The film is considered a reboot of the 2004 Hellboy, and is going by the same name."
Lionsgate's statement reaffirms the common knowledge that Marshall's take on Hellboy will be as far removed from Guillermo del Toro's lush, dark fantasies depicted in 2004's Hellboy and its 2008 sequel Hellboy II: The Golden Army.
Hellboy creator Mike Mignola reportedly wanted to connect the new Hellboy film, which he had been working on with screenwriter Andrew Cosby for the last three years, to del Toro's movies. However, Mignola said that the Crimson Peak director wasn't interested in Mignola and Cosby's vision for "a darker, more gruesome version of Hellboy," despite del Toro's years-long campaign to bring his Hellboy III to the big screen. Without del Toro's support, Mignola and Cosby lost original Hellboy star Ron Perlman as well.
Marshall will instead be spearheading Mignola and Cosby's R-rated take on Hellboy, now completely unrelated to del Toro's universe. Harbour is set to appear in the lead role of Helboy, with Jovovich as the villainous Blood Queen, and Ian McShane as Hellboy's foster father, Professor Broom.
No other plot details have surfaced about the reboot, though Jovovich's Blood Queen does hint that Hellboy will be clashing with the Queen of Blood, or Nimue, a powerful witch and one of his most important adversaries.
Hellboy is set to start production before the end of this year.