'Blade Runner 2049' Will Be Rated R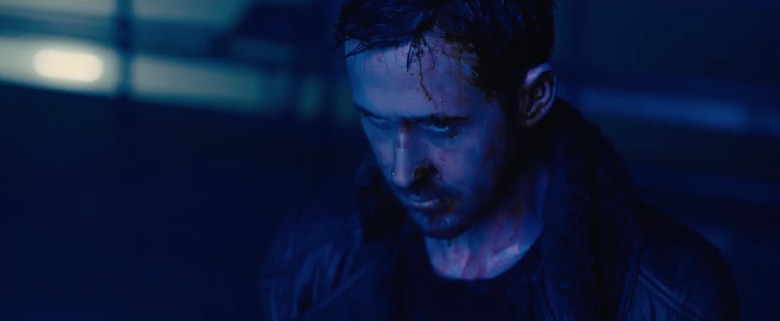 Blade Runner fans who were worried that the upcoming sequel would tone down the violence can rest easy: Blade Runner 2049 officially has an R rating from the MPAA.
According to the MPAA, Blade Runner 2049 will be rated R "For violence, some sexuality, nudity and language."
Those qualifiers are unsurprising, as 1982's gritty sci-fi classic Blade Runner also received an R rating for those exact same reasons. While there weren't many shocking bursts of violence in the original Blade Runner, its bleak neo-noir landscape still lent to a rather gruesome experience.
Arrival and Sicario director Denis Villeneuve continues the story first told by Ridley Scott 35 years ago in Blade Runner. The movie picks up 30 years later, with Ryan Gosling's Officer K going on the hunt for Harrison Ford's missing Rick Deckard. Other than that, most plot details have been kept tightly under wraps, with trailers and promotional teasers revealing little except that Jared Leto plays a villain who manufactures or controls replicants, and Dave Bautista may be a replicant himself. Robin Wright has also appeared as an icy authority figure of some sort, while recent trailers have hinted that Officer K is on the run after discovering a world-altering secret.
Here's the official synopsis for Blade Runner 2049 below:
"Officer K (Ryan Gosling), a new blade runner for the Los Angeles Police Department, unearths a long-buried secret that has the potential to plunge what's left of society into chaos. His discovery leads him on a quest to find Rick Deckard (Harrison Ford), a former blade runner who's been missing for 30 years."
The term "visionary director" has been irritatingly overused as of late, but it's a term that Villeneuve truly lives up to. His stunning work in Arrival and Sicario shows a mastery of genre filmmaking as well as a fearlessness when it comes to raw violence. And he's aided by no less than illustrious cinematographer Roger Deakins, whose work is already making the Blade Runner 2049 trailers some of the most beautiful cinema I've ever seen. It's a strong team supporting Villeneuve, rounded out by his Arrival and Sicario composer Johann Johannsson, working with an assist from Hans Zimmer.
I doubt that Villeneuve would have softened the hard edges of the original Blade Runner film, considering his pedigree. Sure, modern blockbusters have tried to reach a wider audience with a PG-13 rating, but the R rating is vogue again, with superhero films like Logan and Deadpool touting it as a symbol of maturity and/or novelty. But an R rating itself doesn't make a great movie. Thankfully, the strong team and cast behind Blade Runner 2049 is more than promising.
Blade Runner 2049 hits theaters October 6.