'Rogue One' Star Riz Ahmed In Talks For 'Venom' Spin-Off, May Or May Not Be Carnage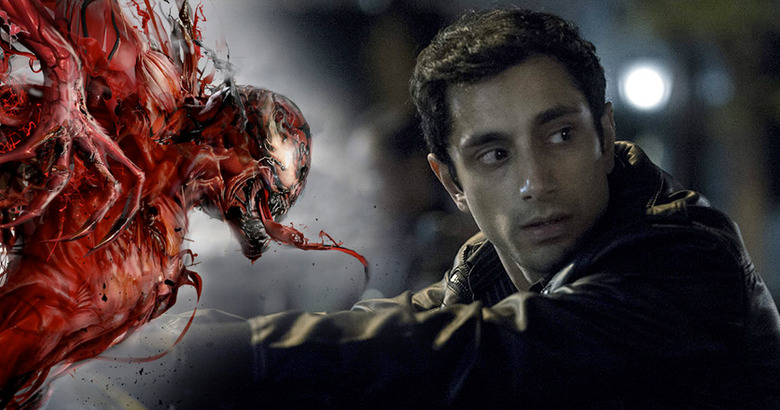 Sony Pictures is getting their Spider-Man franchise spin-off Venom ready to go. Tom Hardy
has been attached to the project
as the title character for some time now, and Gangster Squad director Ruben Fleischer will be behind the camera for the film that
to the Spider-Man played by Tom Holland in the Marvel Cinematic Universe. Now the supporting cast is starting to fill out.
Reports have indicated that Rogue One: A Star Wars Story actor Riz Ahmed is in talks to play a popular Marvel Comics character in Venom. While the character isn't being disclosed at this time, there is word on which character it won't be. Find out more about Venom cast addition below.
was the first to report on the Venom cast looking to recruit Riz Ahmed. While their reports doesn't mention which character he would play if a deal comes together,
has heard from sources that it won't be Carnage, even though that's the role in the film that Sony Pictures has been looking to cast. Carnage
was supposed to be the villain
and Riz Ahmed is said to have been considered for the role, but the script has changed since then and now he's reportedly up for a different role.
Meanwhile,
Jeff Sneider from The Tracking Board
says his sources are torn as to what role Riz Ahmed would play, with one trustworthy source saying it will be Carnage. So it sounds like it could go either way.
Reporter Justin Kroll at Variety
that Matt Smith (Doctor Who), Pedro Pascal (Game of Thrones) and Mathias Schoenarts (The Danish Girl) were also in the running for the role, so if Riz Ahmed somehow isn't able to make it through negotiations, the studio does have other options at their disposal. Unfortunately, none of those options give us an idea as to who the character they could have played will be if it's not actually Carnage.
Considering that Spider-Man: Homecoming has already used Vulture and Shocker, not to mention hinting at Scorpion, maybe Venom will venture into different villain territory by bringing someone like Kraven the Hunter or Mysterio into play (especially since there are spin-offs
for those characters in the works
). Or maybe they'll dig deep into sci-fi Spider-Man territory by bringing Scarlet Spider into the mix, who is actually a clone of Spider-Man. That sounds pretty far fetched, but Venom is supposed to be a straight-up sci-fi movie, and potentially R-rated, so maybe it's not too crazy.
Very little is known about Venom at this point, but the script is being written by Scott Rosenberg (Jumanji: Welcome to the Jungle) and Jeff Pinkner (The Dark Tower), with Avi Arad and Matt Tolmach producing the movie along with Sony's Amy Pascal.
As of now Venom is slated to arrive in theaters on October 5, 2018.