Donald Glover Talks 'Han Solo', Plus New Revelations About 'Spider-Man: Homecoming' And 'Community'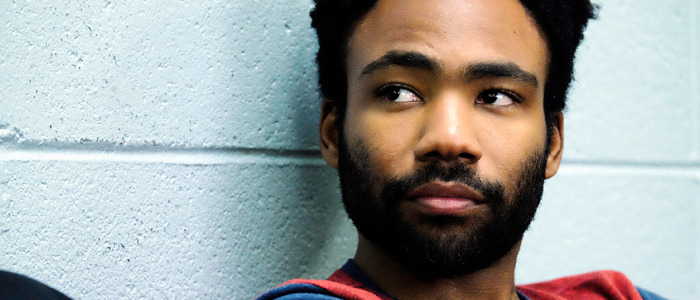 The final verse of the 2010 song "F*** It All" from Childish Gambino – the rap alias of multi-hyphenate Donald Glover – ends with this line: "To all my fans who sayin' 'Donald Glover 'bout to blow,' just give me six months so you can say 'I told you so.'" It's hard to believe it's been seven years since then, but Glover has indeed lived up to that promise: the dude has blown up in multiple entertainment fields, culminating with being cast as Lando Calrissian in Lucasfilm's upcoming Han Solo movie.
In a new profile, the actor speaks about the director switch-up on that film, and we learn some more details about his meeting with original Lando actor Billy Dee Williams. Plus, there are new revelations about Glover's roles in Spider-Man: Homecoming and Community that fans should find worthwhile.
The Hollywood Reporter's profile on the actor/director/writer/producer is illuminating in many respects, but we'll keep it focused on the aforementioned properties. First up, let's chat about Han Solo. Earlier this year, a fan spotted Glover and Williams at a Los Angeles restaurant as they spoke about the character and history of Lando. The profile claims he was wearing "a pair of shades and a fake nose" during the meeting, but I don't see any glasses in the photo and his nose looks like his normal nose to me. Maybe they meant Williams was wearing the disguise?
Sooooooo yesterday a certain Mr. Glover and a certain Billy Dee were lunching at my favorite spot in Los Feliz and UM OMG #LANDO #starwars pic.twitter.com/8ICWPoinai

— KOKO MUNDIAL 🏆🇲🇽🇭🇷🇺🇲🏆 (@GODDOLLARS) January 23, 2017
In any case, Glover looked back fondly on what was said during that meeting:
"I was like, 'I've always felt like this character could do this, and he represents this, and I kind of feel like he comes from here, and it's very obvious he has a lot of taste, so maybe he grew up seeing that from afar? Because I'm like that. Maybe he saw it from other planets and was like, 'I want to be that.' He just let me ramble on and on, and then finally I was like, 'So, what do you think?' And he goes, 'Yeah, I don't know about all that. Just be charming.'"
As for his small role in Spider-Man: Homecoming, in which he played a low-level criminal named Aaron Davis, Homecoming director Jon Watts came to Glover for the role because he had already aged out of being able to play Spider-Man (and I'm sure you all remember the #Donald4SpiderMan campaign that ignited this whole thing a few years back), and Watts was insistent on getting Glover in the movie. The director even went as far as to tell Glover that if he didn't play Aaron Davis in the film, Watts was going to wipe the character from the movie entirely. (By the way, Glover is leaving the door open to reprise that role in a possible Miles Morales movie should one ever happen, since Aaron Davis is that character's uncle in the comics.)
And finally, THR caught up with Community creator Dan Harmon, who finally admitted that Glover leaving the show in its fifth season was effectively the end of any high quality storytelling the show had left in it:
"You can't tell that guy, 'Oh, now this is the time you're going to fail, so you should definitely not keep moving forward.' Look at his ascent. If I were Donald Glover, I would try eating the moon, because we're not so sure he can't until he tries since everything he tries he succeeds at. I needed to convince myself that Donald leaving wasn't the death of the show, but now that it's all over, I think we can agree that it was."
I loved Community dearly when it was on, and I did the same mental gymnastics Harmon did when Glover left in an attempt to convince myself that the show could still be great without him on it. But I came around to the truth a lot sooner than Harmon did. (Which is understandable, considering how much that show took out of Harmon – especially in the later seasons.)
The whole piece is worth reading, so head over to THR and check it out. And in addition to all of that (not to mention his highly-acclaimed FX comedy Atlanta), Glover and his brother Stephen have been working on a Deadpool animated series as Donald was filming Han Solo, so it seems as if we'll be seeing a lot more from him in the coming years. And "more Donald Glover projects" is always music to fans' ears.