'Star Wars: The Last Jedi' Reveals Snoke's Praetorian Guard; The Supreme Leader Will Still Be Mo-Cap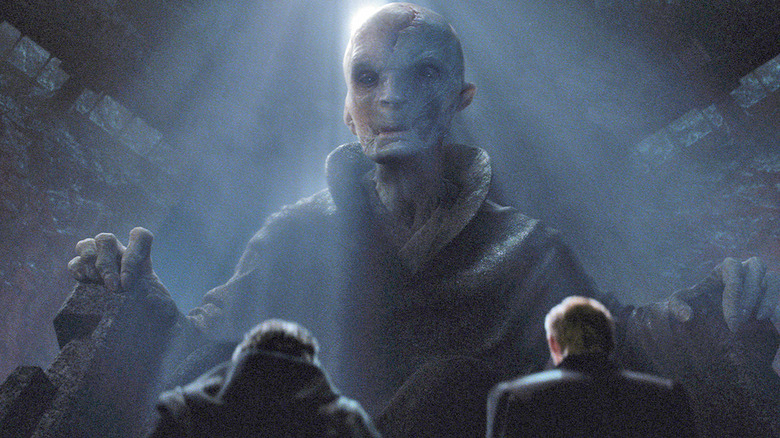 Supreme Leader Snoke (Andy Serkis) is going to do a lot more than dish out insults from a big chair in Star Wars: The Last Jedi. Kylo Ren (Adam Driver) will come face-to-face with his grumpy mentor in Rian Johnson's film. While there was speculation Snoke was going to be brought to life as a puppet this time around, that's not the case. Serkis will still play the character via motion capture...but he'll have some fancy new protectors in the form of the Praetorian Guard.
The Praetorian Guard – who are loosely based on the real-life elite guards who protected the Emperors of Ancient Rome – act as the right hand protectors to the Supreme Leader and their official uniforms are a little more menacing than the similarly red-cloaked Imperial Guards we saw in the original trilogy. Emperor Palpatine's guards wore crimson robes and looked almost ornamental. These guys look like they're ready for combat. Here's the first look at them, courtesy of Entertainment Weekly: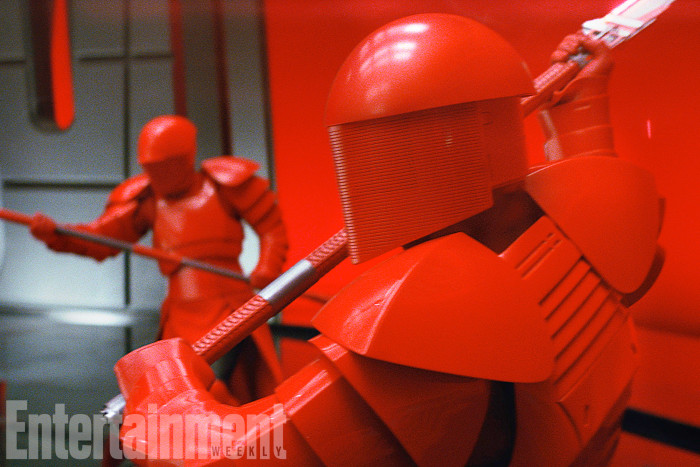 The costumers were designed by Michael Kaplan, whose resume is beyond impressive. His credits Blade Runner, Fight Club, Se7en, Miami Vice, and Star Wars: The Force Awakens, just to name a new. According to Johnson, they wanted the the Praetorian Guard to appear dangerous:
The Emperor's guards were very formal, and you always got the sense that they could fight, but they didn't. They looked like they were more ceremonial, and you never really saw them in action. The Praetorians, my brief to [costume designer] Michael Kaplan was that those guys have to be more like samurai. They have to be built to move, and you have to believe that they could step forward and engage if they have to. They have to seem dangerous.
While these guys were brought to life by actors on set wearing costumes, their big boss, Snoke, is still an entirely CG creation. Shooting down the rumors that the character would be practical this time around, Johnson said:
No, it's entirely a mo-cap performance. [Creature designer] Neal Scanlan built a maquette that we had on set for lighting reference and to give the actors a sense of what it was going to feel like. And then we scanned that and [Industrial Light & Magic] used that in their renderings, but Snoke will be an entirely CG creation.
On set, Johnson was in awe of Serkis' performance as Snoke. "It's one of those performances where after every line, I'd look over at whoever's standing next to me with an expression on my face like, 'Oh, my God, we just got that,'" he told EW. He also mentioned the Supreme Leader plays a larger role in the story this time around after appearing in only a few scenes in Star Wars: The Force Awakens. After War for the Planet of the Apes – and plenty of other knockout performances from Serkis – I'm excited to see him bring his gravitas and talents to a Star Wars villain.
Star Wars: The Last Jedi opens on December 15, 2017.