Bill Murray Wept While Seeing The 'Groundhog Day' Musical, Continues To Be The Best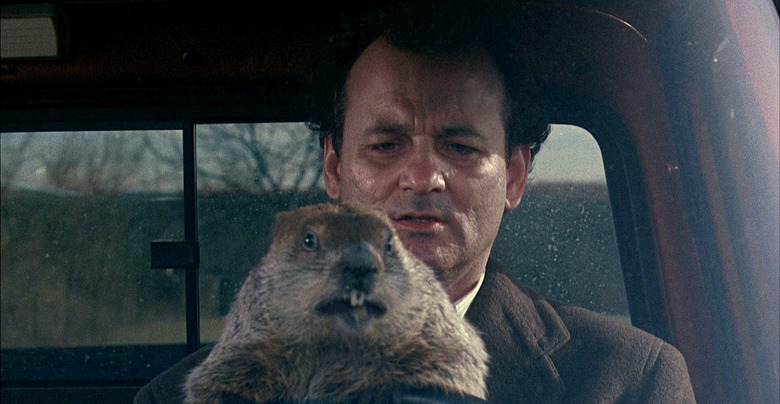 Bill Murray is a brilliant comedian, a film icon, and a seemingly awesome human being. We hear about it every few months, with viral story after viral story about how he crashed a wedding, spontaneously started bartending, or gave life advice to a couple at an airport. But it's always a treat to relive his eccentricities — and his touchingly candid moments.
We got a bit of both when he attended a showing of the stage musical adaptation of Groundhog Day, suddenly appearing in the audience at the August Wilson Theater in New York City on Tuesday night.
Murray was seeing the show for the first time, attending the performance with Danny Rubin, who co-wrote the original screenplay and the book for the musical, and his brother, Brian Doyle-Murray, who played Buster in the movie.
The New York Times' Sopan Deb gave a first-hand account of spotting Murray in the audience, at first joining in on the excitement of seeing the star of the movie upon which the musical was based before detailing Murray's own emotional journey at seeing Groundhog Day on stage for the first time:
Mr. Murray exhibited a range of emotions throughout the night. At first, it was quirky one-liners to gleeful fans who suddenly recognized him. There were gestures and guffaws during the first act. But by the end of the performance, Mr. Murray was visibly sobbing.
Murray spent much of the show "bobbing his head to the music,"at several points guffawing, pumping his fists, and yelling "Wow!"
Needless to say, he probably wouldn't have minded being stuck in a loop watching Groundhog Day again.
After the show, Deb recounted that Murray was clearly moved by the show, telling conductor David Holcenberg, "It really killed me." Backstage, he told Sean Montgomery, who played the sheriff, "It was really beautiful. You got me. You really got me."
Murray went on to address the whole cast of the show, giving suggestions as well as expressing his admiration for their performance. He said:
"As actors, I can't respect enough how disciplined you are and how serving you are of the process. There's nothing worse than seeing someone that's out for themselves. And you are all in it for each other."
No word on whether that beautiful speech brought the cast to tears as well, but from reading his words, I wouldn't be surprised if everyone was weeping as much as he was. He later talked to Deb about why he was moved to tears:
"The idea that we just have to try again. We just have to try again. It's such a beautiful, powerful idea."