'A Christmas Story: Live' Songwriter On New Songs And Adding More Mom [TCA 2017]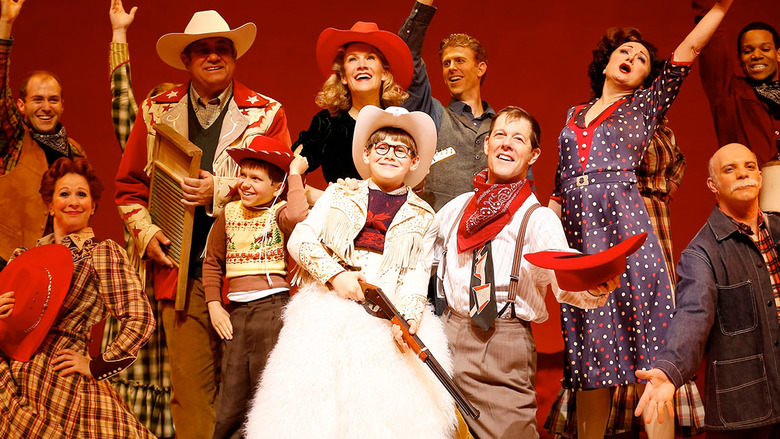 Fox announced the casting of Maya Rudolph as Ralphie's Mom in their live telecast of A Christmas Story this morning. In the afternoon, an A Christmas Story panel featuring Executive Producer Marc Platt and songwriters Ben Pasek and Justin Paul elaborated on the event. Pasek and Paul are writing new songs to add to their Broadway show, including a modern day Christmas song for a new prologue sequence.
"The telecast will start in a more contemporary place and will go back into the past, and back to a contemporary setting," Pasek told reporters after the panel. "One of the songs we're most excited about is a contemporary Christmas song. We're really leaning into writing a contemporary Christmas song that we didn't have permission to write for the Broadway show because we went right away back in time. Getting to write a contemporary Christmas song that really is about the universality about what the holidays mean for all of us."
The Broadway musical embellished the role of Mom, played by Melinda Dillon in the original Bob Clark-directed movie. Pasek looks forward to giving her scenes additional screen time in the television adaptation.
"We wrote for the Broadway show two songs for the mother," Pasek said. "She's not as explored as deeply [in the movie]. Because we have more real estate in a Broadway show, we have more time, she really is. She sings some real moments. It's exciting. Those songs are in the Broadway show, but they expand potentially for the live telecast. This is a close to three hour television event so we're going to get to explore and expand a lot."
For Christmas Story fans who have not had a chance to see the stage adaptation of the beloved movie, many of the film's famous lines become entire songs. Ralphie schemes to make Santa give him a Red Ryder BB gun, which his parents do not want him to have. His father wins a lamp in the shape of a woman's leg in a contest. The boys have schoolyard hijinks with bullies and dare a friend to lick a frozen pole.
"'You'll Shoot Your Eye Out' is a big production number that happens in the show," Pasek said on the panel. "It's the culmination of Ralphie really feeling down and out. It becomes a big number with tap dancing kids. We also have "A Major Award," which becomes a big fantasy number with the dad. In the Broadway show there's a leg lamp kick line. The fantasy [of Ralphie's imagination] lends itself to going itno these big musical numbers."
Platt said the television broadcast gives them a new chance to replicate some of the movie's cinematography, which they could not on stage.
"There are certain iconic shots that we will say, 'You know what, we should replicate the shot,'" Platt said on the panel. "Maybe there's a wink to it, maybe there isn't. [There are] different things people can do in live events, forced perspective for example. I try to create a grammar where we take from the cinematic and live worlds and combine them in every scene. There will be a moment where the camera will replicate an actual moment from the film everybody loves. There will also be moments where you go that can't be live. Then there'll be a wink where we pull back and show the trick."
After the success of Grease Live!, Platt said he had his pick of musicals to adapt to television. "This is the one I picked because I felt we can deliver something exciting that's true to the original, but the kind of entertainment you haven't seen on live television before," Platt said.
A Christmas Story: Live airs on Fox this December.