Next 'The X-Files' Season Will Only Have Two Mythology Episodes [TCA 2017]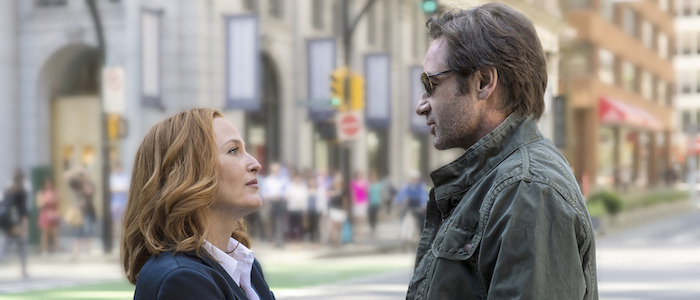 Fox's revival of The X-Files in 2016 was successful enough to warrant a second season. The 2018 run will have 10 episodes, but only two will continue the X-Files mythology directly. David Madden, President of Fox Broadcasting, told the Television Critics Association the mythology episodes would be the season premiere and finale, just like the previous revival season.
"It's going to be similar," Madden said. "The first episode will be a mythology episode, but much simpler than last season's because we have less to catch up on. There will be eight stand-alones."
Madden added that the middle episodes could touch on the mythology but would truly be stand-alones. After the panel, Chairman and CEO of Fox Television Group Dana Walden spoke with reporters about The X-Files. She acknowledged there was some harsh criticism of the six-episode 2016 season, but she also acknowledged how successful it was.
"It's hard because I don't want to say they were disappointing because we have a lot of positive feedback as well, clearly 15-plus million viewers an episode," Walden said. "I think Chris [Carter] is really excited about a new round of episodes. There was certainly no reason for him to have to do it. He's wildly successful. It wasn't about the money. He had a real hunger and enthusiasm to do future episodes. Everyone's seen the first script and it's excellent, so I think it's a very good starting place for the show and we're excited about the next season."
The writers room for The X-Files has added two female writers and two female directors in the wake of controversy over there being predominantly white male writers and directors in the nine seasons of the original series. During the panel, Walden addressed the new season's diversity.
"Chris has assigned two women episodes," she said. "Two of the 10 episodes will be written by women. We do have two female directors and half of our directors are diverse. I think Chris is making moves in the right direction. I don't want to make excuses for anyone. I just want to explain after 200-plus episodes of a show with a very specific mythology, the tendency is to want to rely on the people who helped you on the original when you're just doing 10 episodes. The crew with Chris for a very long time happened to be a group of male writers. That's not an excuse. It's only to explain how we ended up in that situation at the very beginning of this process."
Walden also suggested the hirings happened organically, before the controversy. "We had hired the writers before news broke of this particular situation," Walden continued. "No one was replaced so I'm not 100 percent sure of the chronology of this situation. No one was replaced and the two had already been assigned as far as I remember."
The X-Files returns to Fox in 2018.