'Star Wars: The Last Jedi' Will Likely Introduce A Mega Star Destroyer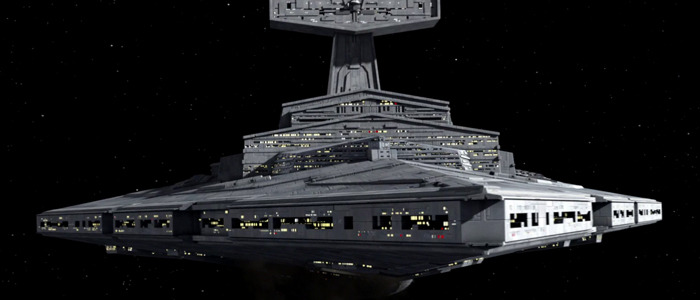 We recently learned that Adam Driver's cranky bad boy Kylo Ren would be getting a new ship called the TIE Silencer in Rian Johnson's upcoming sequel Star Wars: The Last Jedi. Now, it seems as if his master may be cruising the galaxy in a new ride as well. Supreme Leader Snoke's name has been tied to a ship called a Mega Star Destroyer thanks to – what else? – a list for upcoming Star Wars toys.
Inverse points us to a StarWarsNewsNet article that includes a partial leaked image of a list of toys scheduled to be released on September 1, 2017, which is the next big "Force Friday" event for retailers to sell new Star Wars merchandise. The list includes an item called "BB-8 Mega Star Destroyer (with Supreme Leader Snoke and Elite Praetorian Guard)" that's valued at $199.99, and while there are no pictures of it as of yet, it's worth thinking about what this could mean for the film.
First, the idea that this toy comes stocked with Snoke and some "elite" guards is a pretty clear sign that Andy Serkis' motion-captured villain is going to be on the move in The Last Jedi, which is a marked contrast to how we saw him in The Force Awakens (in which he sat in one chair the whole time and barely moved at all). But what would BB-8 be doing on that ship? In the footage we've seen of that character in the upcoming movie so far, it appears as if BB-8 is accompanying Finn and Rose Tico on their mission to the swanky gambling city of Canto Bight. Could there be more to the little droid's story that we don't know about? Maybe he sneaks onto Snoke's ship and goes undercover?
It's unclear whether the name Mega Star Destroyer will be the official name of the ship itself. Kylo Ren's TIE Silencer is technically called the "Sienar Jaemus TIE/VN Space Superiority Fighter," but that name is far too clunky to stamp across the box of a toy meant for kids, so it's possible that "Mega Star Destroyer" is just a shortened name, code name, or a nickname for a more impressive-sounding technical designation for the ship. There are tons of different classes of Star Destroyers in Star Wars lore: Imperial, Secutor, Tector, Qaz, Venator, and Victory. (You can read all about them here.)
Star Wars: The Last Jedi hits theaters on December 15, 2017, and I imagine we'll know a lot more about it once these toys start hitting shelves.