'Wonder' Trailer: 'The Perks Of Being A Wallflower' Creator Stephen Chbosky's Next Potential Heartwarmer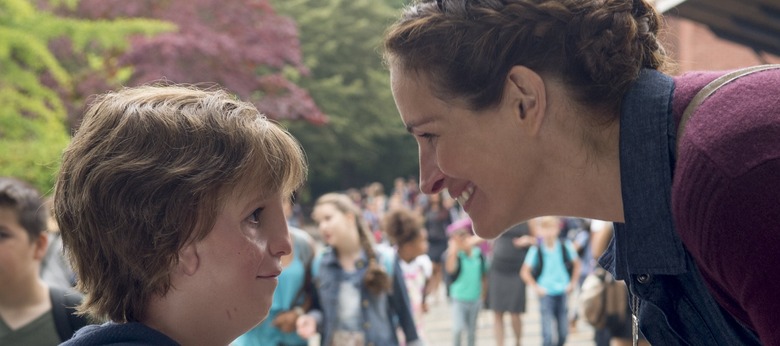 Stephen Chbosky is returning to hallways and homework with his sophomore effort as a filmmaker, Wonder. The Perks of Being a Wallflower author and director showed a real love and understanding of his young protagonists with his first feature. I'm hoping he does the same for the young leads in his next film, which is a bit of an ensemble story with August "Auggie" Pullman (Jacob Tremblay) at the center of it. Like Perks of Being a Wallflower, maybe Chbosky's next movie will pull at the heart strings without much difficulty.
Below, check out the new Wonder trailer.
The drama is based on R.J. Palacio's New York Times bestseller, which was adapted by Steve Conrad and Jack Thorne. Conrad wrote The Weatherman and directed The Promotion, while Thorne wrote How I Live Now and was recently hired to write Star Wars: Episode IX. Those are two fine writers are behind the adaptation, which I've heard very good things about.
Tremblay plays August "Auggie" Pullman, a young kid born with facial differences. He's entering fifth grade and attending a new school, his first time in a regular school after his mom (Julia Roberts) has homeschooled him for years. The 10-year-old is bullied, but as the trailer shows, his journey isn't all about hardship. The movie co-stars Owen Wilson, Daveed Diggs, Mandy Patinkin, and Izabela Vidovic.
Here's the new Wonder trailer:
Do trailers for dramas usually begin with these silly teasers, too? It still confuses me at first, but it doesn't ruin the trailer in any way. Wonder seems like a movie with its (big) heart in the right place. I could see Chbosky earning all these emotional, tearjerker moments in the trailer. The Perks of Being a Wallflower, both the movie and the book, wear their heart on their sleeve in the right way. There's a genuineness to Chbosky's work I love that I think could work in Wonder's favor.
Here's the official synopsis:
Based on the New York Times bestseller, WONDER tells the inspiring and heartwarming story of August Pullman. Born with facial differences that, up until now, have prevented him from going to a mainstream school, Auggie becomes the most unlikely of heroes when he enters the local fifth grade. As his family, his new classmates, and the larger community all struggle to find their compassion and acceptance, Auggie's extraordinary journey will unite them all and prove you can't blend in when you were born to stand out.
Wonder opens in theaters November 17.