'The Shape Of Water' Photos: Another Treat For The Eyes From Guillermo Del Toro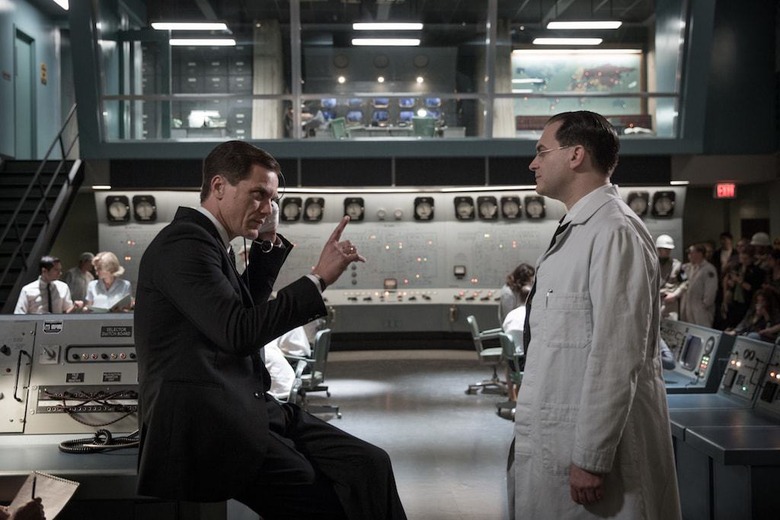 Guillermo del Toro has created some terrifying human beings in his movies. Michael Shannon plays his next antagonist and I can imagine del Toro turning him into one truly terrifying presence in his fairy tale. The trailer already has me fearing what he might do to Michael Stuhlbarg, who after his fantastic performance in Fargo, I expect to be the recipient of more pain and suffering. Shannon's character, Strickland (a strong villain name if there ever was one), is probably more interested in harming the fish-man (Doug Jones) he has trapped.
Below, check out Strickland, the fish-man, and more in some new The Shape of Waters photos.
Sally Hawkins (Happy-Go-Lucky) stars in the R-rated, two-hour-long fable as Elisa. She plays a mute government laboratory employee who discovers a classified government experiment with her co-worker Zelda (Octavia Spencer). The experiment is a highly intelligent creature once worshiped by inhabitants in Amazon. Strickland is less impressed. When he wants to cut the fish-man open and see what's underneath, Elisa (Hawkins) can't sit by and do nothing. She might receive some help from her artist and friend, Giles (Richard Jenkins).
Del Toro has directed some beautiful period pieces. His movies, period or not, tend to be quite beautiful, but the light on Hawkins' face as she stands below the fish-man, the contrast of her red jacket in the bleak hallway, and the blues in the lab do make for some visually appealing photos. Elisa seems to radiate light. It's no real surprise that the next movie from del Toro looks like a stunner, visually speaking. I'm excited to see how he depicts the era from beginning to end with cinematographer Dan Laustsen, who shot two of the most gorgeous studio movies of the last few years: Crimson Peak and John Wick: Chapter Two.
The filmmaker behind Pan's Labyrinth and The Devil's Backbone wrote his next feature with Game of Thrones producer/writer, Venessa Taylor. According to The Hollywood Reporter, del Toro self-financed the movie for $19 million. "Before the current administration, I felt an undercurrent of what was to come and thought, 'Wouldn't it be great to address it through a fairytale, tolerance and love?'" he told THR. "The same tensions that existed then are still around now. I felt the best way to address it was with a love story rather than any other way. And I thought, 'What harder time for a love story than the Cold War?'" Del Toro's love story premieres next month at the Venice Film Festival before its holiday season release.
From master story teller Guillermo del Toro comes The Shape of Water – an other-worldly fairy tale set against the backdrop of the Cold War era America circa 1963. In the hidden high-security government laboratory where she works, lonely Elisa (Sally Hawkins) is trapped in a life of silence and isolation. Elisa's life is changed forever when she and co-worker Zelda (Octavia Spencer) discover a secret classified experiment.
The Shape of Water opens in theaters December 8.