'The Goldbergs' Are Doing 'Weird Science' In the Season 5 Premiere [TCA 2017]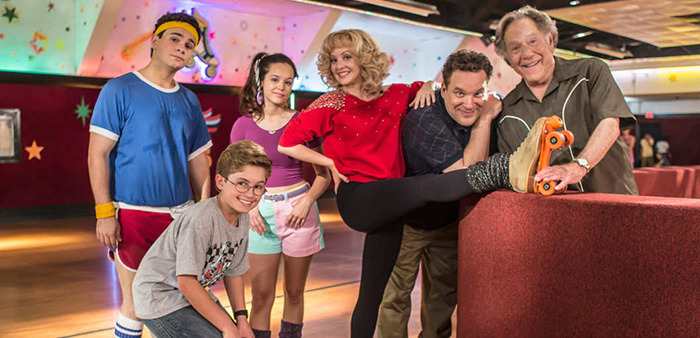 The movie-themed episodes of The Goldbergs have been fan favorites, and favorites of creator Adam F. Goldberg. Movies like The Karate Kid, Dirty Dancing, Short Circuit and Batman have provided the basis for several episodes of the family sitcom. On a Television Critics Association set visit to the Sony Studios lot, Goldbergs star Wendi McLendon-Covey told reporters that the show is doing a Weird Science episode for its fifth season premiere.
Weird Science was John Hughes' movie about two nerds (Anthony Michael Hall and Ilan Mitchell-Smith) who create a woman (Kelly LeBrock) with their computer.
"We're opening the season with a Weird Science homage," McLendon-Covey said. "Trying to build a girlfriend for Barry since Lainey is away. I don't want to spoil it for you but it doesn't work. It doesn't work, you guys. You cannot build a lady with a computer. I know that's hard to believe.
One of Weird Science's memorable moments had Hall and Mitchell-Smith wearing bras on their heads. Goldberg got George Segal to recreate that scene.
"You're going to see George Segal trying to be very game with a bra on his head going, 'I thought you guys wanted to learn how to unhook 'em like normal kids,'" she added. "Most of our episodes, they'll take a pop culture reference and use it as a point of departure for something bigger. Our film homages are just good stupid fun. I love 'em."
Jeff Garlin was not as big a fan of the movie episodes. The one that would get him excited would be Purple Rain. "I would love if there was," Garlin said. "There is not any Purple Rain episode to my knowledge yet. I hate the music on the show. I think it's the lamest music of the era, most of it. But it's when Adam was a little boy then and I graduated high school. A little boy and a young man have different musical taste, so what he loved I didn't necessarily love. But if he did a Clash episode or Prince, [that] would be delightful. He's tried Michael Jackson. Everyone loved Michael Jackson."
The Goldbergs has already been renewed for a sixth season, and McLendon-Covey hopes it can go long enough to see Beverly become a grandmother. She currently knows the real Beverly Goldberg and would love to play that version.
"If we go so long that we actually see these kids get married and have children, that's when [the real Beverly] will affect it," she said. "I think she's probably the best grandma in the world. I think she's probably the one who is always slipping money into the kids' pockets and candy, and then gives them back all hyper and sugared up to their parents."
The Goldbergs returns Wednesday, September 27 on ABC.