'Modern Family' Likely To End After 10th Season, According To Creator Steve Levitan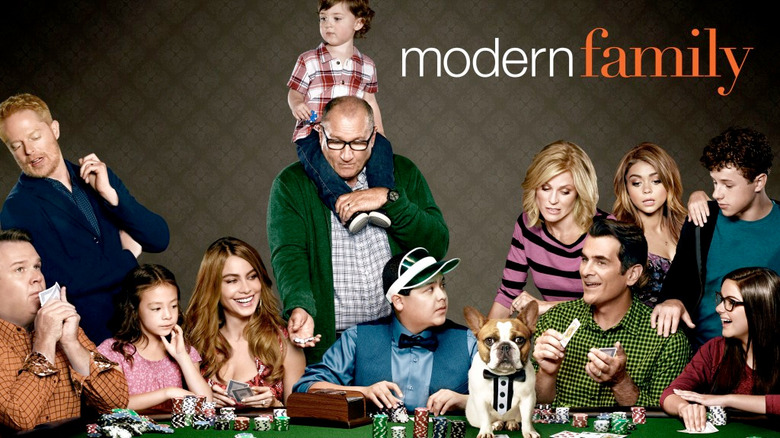 Modern Family is a staple of ABC's programming slate, and it's been a hit since debuting in the fall of 2009. The network ordered two more seasons of the series this past May, which will take the series to season 10. While co-creator and executive producer Steve Levitan couldn't be happier to have a series that has lasted this long, it sounds like that might also be the last one we'll spend with the Pritchett and Dunphy families.
Find out more about Modern Family ending below.
During ABC's promotions at their Television Critics Association panel, Steve Levitan indicated to Deadline that he fully expects Modern Family to come to an end with the final season. Though Levitan indicated they could end up going beyond 10 seasons if ABC really wanted them to, he thinks making it into the double digits is a good place to stop. The producer said, "Our original goal was to just stay on the air. After awhile though, we felt we may be in control our own fate, and 10 sounded like a nice round number."
Considering how lengthy the negotiations were said to be to lock down deals for the two season order, I wouldn't be surprised if ABC is ready for Modern Family to call it quits as well. Sure, the series has won them the Emmy for Outstanding Comedy Series five times (as well as countless other Emmys and awards), but as the show has grown, it's also gotten more expensive for them to keep the cast around.
Plus, despite all the accolades it has received over the years, Modern Family has faced increasing critical backlash as well. Though the series started out strong and kept pace for several seasons, the show felt like it started to run its course around season 5 or so. The premises and problems being thrust upon the Pritchett and Dunphy clans were starting to get a bit silly, bordering on bad sitcom level. It happens to most great comedy series that go on for far too long (The Office is a prime example), but with the end seemingly in sight, hopefully Steve Levitan can end the series with a bang and give the big family the send-off they deserve. But how?
Levitan says the producers and writers have bad some discussions about how they want to ends the series, but nothing is set in stone, "We haven't had that exact conversation yet how we want to end the show episode-wise. We've talked about areas that we want to go and tonally what we want to do." Some of those ideas include ending the show with a shocking death of some kind, taking a cue from one of the iconic season finales of M*A*S*H* or coming up with some kind of twist the way Newhart did.
If you're worried that both of those possible scenarios sound gimmicky, don't worry, because Levitan sounds like he knows what he's doing. The co-creator added, "I think we will end the show the way we started it in the pilot, with a big family event." The near-perfect pilot had a nice surprise by revealing that the characters on the show were all part of the same family, despite seeming like they were part of three different families. They all came together to celebrate Cam and Mitchell adopting their Vietnamese baby, Lily.
Now nearly a decade has passed and so much is different, especially when it comes to the kids on the show, who have grown up in front of the audience's eyes. Even if some have grown tired of Modern Family's antics lately, it's still a series that has a special place in my heart, and I look forward to seeing what kind of farewell they're given.
Will you be sad to see Modern Family go?